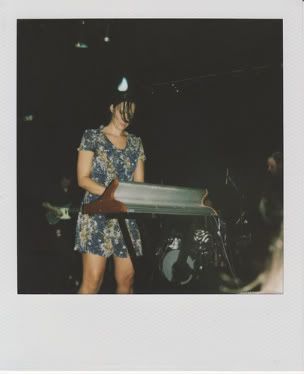 You might remember that back at the turn of the century Stereolab were at their most furiously, wallet-worryingly prolific - bewilderingly so in fact. The proliferation of new material they were ceaselessly hemorrhaging culminated in way too much stylistic repetition & an unnecessary glut of largely interchangeable releases that only the most financially benevolent 'Lab aficionado could ever have hoped to keep abreast of (i.e. not me). Patience & resources severely tested, I have to admit that I ducked out on 'em after 1999's Cobra & Phases Group Play Voltage In The Milky Night LP, only dipping back into their frantic release schedule intermittently, & then only for seductive boutique releases like this one, The Underground Is Coming...
I've always preferred Stereolab's succinct, EP-length collections (1995's Music For The Amorphous Body Centre remains one of their finest releases after all) &, as such, The Underground Is Coming is outstanding. A limited edition 4-track 7" in a blinding red & yellow Situationist-inspired sleeve, it was released c/o their own Duophonic label (#D-UHF-D24) & sold exclusively on tour in 1998-99. Musically, it's a frothy mélange of abstracted Abba melancholy, celestial Krautrock motorik, post-ironic elevator muzak & kitschy, wah-wah steeped synths. To date, none of it's buoyant Mooged-up miniatures have been compiled on any of the band's regular Switched On anthologies which is a bit of a shame - brief, slightly daft songs like "Fried Monkey Brains" make a refreshing change from what had by then become "standard" 'Lab fare, & The Groop sound as if they're letting their hair down a bit & having some FUN for once.
And absence really does make the heart grow fonder it seems - I'm currently fighting off a profoundurge to nip upstairs & dig out a couple of old 'Lab albums for a listen, it's been ages...