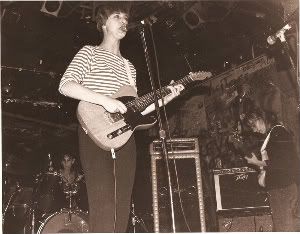 Finally... the mighty
Ut
, possibly the final ensemble from the original No Wave era whose influence & importance has yet to be adequately addressed, & one of the finest too.
Forming in 1978, they'd already racked up 5 long years' worth of performances on the NYC underground & worked through a number of line-ups before releasing this eponymous debut 12" (their first appearance on vinyl). Recorded at Brixton's Cold Storage & self-released in 1984 on their own Out label (to resounding critical indifference), you'll no doubt recognise the fantastic "Sham Shack" as Soul Jazz included it on one of their New York Noise compilations. The 3 other pieces here are just are startling,
perhaps more so
- all seem daunting & impenetrable initially but utterly timeless in retrospect. I only ever actually saw a copy for sale once, in Nottingham's Selectadisc in the late 80s, which I immediately bought & have hung onto through thick & thin, it's such a great,
great
record. Tantalisingly, Ut completed an even earlier EP for Charles Ball's semi-mythic Lust/Unlust label prior to it's abrupt collapse -
c'mon
Soul Jazz, get it sorted!
Relocating from New York to London in the early 80s, encouraged by the patronage of Mark E Smith & The Birthday Party amongst others, Ut eventually hooked up with Paul Smith's pivotal Blast Label to release a handful of extraordinary LPs (In Gut's House = masterpiece) before finally calling it a day in 1990. I was fortunate enough to see them them live on a handful of occasions in the mid-80s & it's fair to say that they made absolutely no concessions on stage - swapping instruments, teetering on the brink of a liberating chaos, dissecting & spitting out their ferocious, primal guitar-scraping abstractions to disconcerted, slack jawed crowds who'd much rather have been watching The Flatmates. Ut were "interested in collapsing the divide between song & free improvisation... Most songs came from improvisation & contained aspects of the free even when they became solidified". Though they'd appear at the outset to be freely, & somewhat awkwardly, improvising, the realisation would gradually dawn that, actually, the songs they were playing had been meticulously arranged to sound that way: fractured, forensic, remote & slightly cantankerous.
So, the good news is that (i) Ut performed together, unannounced, in London earlier this year for the first time in 2 decades, supporting
Dial
(Jacqui Ham's current outfit) at The Luminaire, & (ii) they're about to play several more shows on America's East Coast. Make the effort to see them if you get the chance, they're one of my all-time favourite bands (though it seems slightly churlish to refer to them merely as "
a band
") & still sound like nothing else on Earth.
P.S. If anybody reading this has Ut's Live 1981 cassette on Out please get in touch.