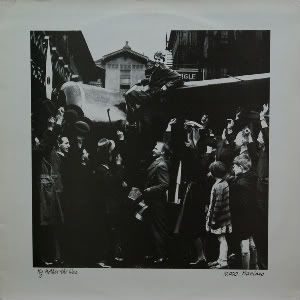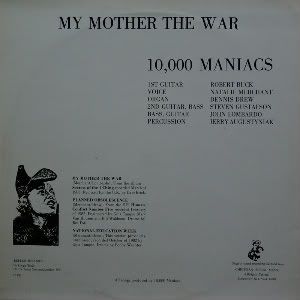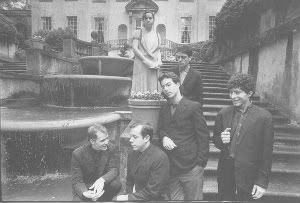 10,000 Maniacs formed (as Still Life) in chilly upper New York in 1981 & are one of those rare bands who, rather like The Smiths, seemed to emerge without precedent or any obvious influences. John Peel had a fleeting obsession with them back in 1983 &, being a compulsive listener to his show at that point, so did I. Nowadays, the band having long since retreated into anaemic (albeit politically charged) MOR, it's easy to forget how radical their first few records sounded. The unlikely combination of 17 year old Natalie Merchant's ethereal folk vocal (a female equivalent to early, expressionist Michael Stipe), Robert Buck's bizarre, overloaded guitar (a bedsit version of The Edge perhaps?) & a rhythm section that alternated between hesitant white reggae & pounding alt-rock, seemed very peculiar to a schoolkid more accustomed to the DIY dystopia of Devo, Fad Gadget & (!) You've Got Foetus On Your Breath.
This Reflex 12" was the band's first European release & slipped in & out of print relatively quickly, despite scoring a sizable hit on the British independent chart. "My Mother The War" was taken from the band's debut LP, Secrets Of The I-Ching & remains the keynote song of their early repertoire. "Planned Obsolescence" was the stand-out track on their debut, self-released EP, Human Instinct No.5, & is most notable for it's extraordinary guitar playing, totally at odds with the rest of the song (it certainly made me stop whatever I was doing & listen). It's still my favourite song of theirs by some distance. "National Education Week" is a formative (& much longer) demo version of the Secrets Of The I-Ching track that only ever appeared on the Reflex EP (the shorter I-Ching version was omitted from later pressings of the album btw). An awkward lo-fi dub track with an indecipherable child-like vocal (shades of Ari Up?), it could almost be an early 80s On-U Sound outtake.
Inevitably, considering the worldwide popularity the band achieved in the latter half of the 80s, virtually all of these early ("Fredonia") recordings were eventually compiled on Elektra's Hope Chest retrospective in 1990, albeit noticeably cleaned-up ("
wet
" 80s drums, etc) & losing much of their basement charm in the process. The original vinyl mixes sound vastly superior & I'd definitely suggest you hear
them
first if at all possible. Needless to say, as per John Peel, my interest in 10,00 Maniacs waned as their musical expertise & self-awareness grew & was bumped off once & for all by a horribly precious appearance on
The Tube
(don't say I didn't warn you). This EP, the only record of theirs I've ever owned, still sounds rather good though, eh?