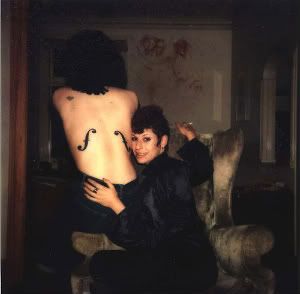 Cosmi Vitelli (aka Benjamin Boguet) has just released his first LP in
ages
, under the name
Bot'Ox
& in collaboration with Julien Briffaz (one half of
Tjékël
). It's called Babylon By Car & it's bloody brilliant, everything Gruff Rhys & Boom Bip's slightly tepid Neon Neon project could/should've been (though, credit where it's due, Stainless Style is still the greatest DeLorean concept album ever). Often echoing the sleazy afterhours ambiance of
Trevor Jackson
's vastly underrated Playgroup LP, I've been giving Babylon By Car an absolute hammering all weekend & haven't been able to find a bad track. The highlight for me is the amusingly sardonic "Tout Passe, Tout Lasse, Tout Casse", featuring the
amazing
Judy Nylon on vocals (where's
she
been hiding all this time, I wonder?). An ominous 4 a.m. crawl through rain lashed Parisian backstreets in a chauffeur driven Cadillac, it's foreboding soundtrack of opaque 80s stripclub synths is sufficiently grand that I've already Facebooked them to suggest they record an entire album with her! And the rest of the album is just as breath-taking - if, like me, you were knocked out by the oblique techno of
Jackson & His Computer Band
&
Para One
a couple of years ago, take note.
I've only seen Cosmo perform live once, DJing in the warm-up slot on Etienne De Crecy's Tempovision tour back in 2000 or thereabouts. Defying the audience's house-hungry expectations, he dropped an aberrant & eclectic selection of early 80s post-punk & skewiff Ze-inspired disco to a rapturous reception. Not bad going for a Sunday night. A year later absolutely
everybody
here was playing exactly the same bunch of tunes & blathering on about a "
punk funk
" revival - so, er,
respect
, monsieur! His schizophrenic debut LP, 1998's genre-jacking Vidéo, abruptly disappeared w/o trace when his label tanked (pick it up cheap c/o
Amazon
, it still sounds pretty good). The follow up, the giddily commercial acquiescence of Clean, was/is just plain
irritating
(sorry!)
,
but he's since redeemed himself 1000% by founding the
trés frais
I'm A Cliché
label & is now back on spectacular form with Babylon By Car. With Air seemingly running out of steam &
Acid Washed
's promising debut inexplicably stalled on the hard shoulder, Bot'Ox's hot-wired debut is looking like being one of my albums of the year. It's not been off my stereo for days now...
Double entendre alert: I can't help thinking that Bot'Ox's name might be a frivolous French reference to the humble English posterior? What do you reckon?