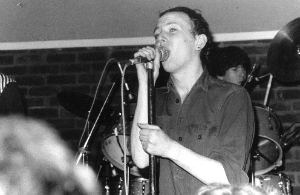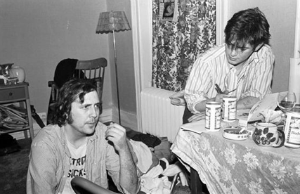 Today's my 44th birthday &, not surprisingly, I'm
ever-so-slightly
hungover. So I'm posting this, the
Mekons
' inaugural John Peel session (despite it already being available elsewhere on the 'net), because I've been
so
fond of it for
so
long - since Peel repeated all of their "
phase 1
" sessions over the space of an entire week sometime during the mid '80s - & I hereby reserve the right to cluelessly gibber on about it at inordinate length for my own mawkish amusement, etc... (Don't be surprised if I start welling up.)
"Why doesn't it rain when I'm sad? / I'll wear my Brutus jeans, they don't show the dirt."
Taped on 7th March 1978, these half dozen ragged songs were recorded sufficiently early into the band's existence that Delta 5's Roz Allen was still present on bass, & intrepid ham-fisted amateurism was still their primary catalyst. Though unmistakably motivated by punk's "Can't play, WILL play" ethos, the Mekons were never really a punk band as such - they were too arch, too intelligent, & too self-deprecatingly analytical for that. Listened to retrospectively their earliest recordings constitute a satirical real-time critique of the punk movement's abrupt & catastrophic descent into a stylistic, tribalistic cul-de-sac - & this is best illustrated by the anarchic urgency of their Peel sessions than their slightly subdued Virgin Records releases l I think?
"The Sex Pistols created a tremendous amount of debris, & that was very rewarding. It's like a child who loves to destroy something in order to find out what's it's made of... they just weren't able to construct anything from the debris... (but) that was just the beginning" (Malcolm McClaren)
The Mekons were a far more complex ensemble that was necessarily apparent in 1978-80. For example, were "Never Been In A Riot" or "Fight The Cuts" incipient attempts to express themselves via the prevailing zeitgeist of punk protest song ("White Riot"), or droll pastiches thereof ("Jilted John"), or were they something else entirely? This seminal Mekons era remains, for me, fascinating & unfathomable: "Where Were You"? No, what were you, Mekons?
Crucially, the Mekons fell together at Leeds University's fine arts department in 1977 where, alongside members of Gang Of Four & Delta 5, they studied under
T.J. Clarke
, one of the few British members of the Situationist International, & Terry Atkinson, formerly of
Art & Language
. Like Swell Maps or Devoto's Buzzcocks before them, this afforded them a degree of subtle intellectual separation - a self-awareness born out of a passionately intense fracas of canibalistic artistic/musical improvisation & anarcho-political radicalism that ultimately ensured they avoided the foreshortened shelf lives of more conventional "contemporaries" such as, let's say, Stiff Little Fingers or Angelic Upstarts (i.e. "
WHY
should our second LP sound like our first?", & so on). To be fair, the mild disappointment of "Where Were You" failing to bluff it's way onto TOTP doubtless contributed to this negation too?
"I suppose... we never thought we'd get past the first single, but now that we have, it's a dilemma, sin't it? Do you just pack it in & try to get a job or some security, or do you try to do something interesting?" (Jon Langford)
A couple of this session's songs were re-recorded for the band's brilliantly flawed Virgin LP, The Quality Of Mercy Is Not Strnen, though these disorderly BBC versions are arguably superior (it depends what mood I'm in to be honest), while a few more reappeared sort-of-posthumously on CNT's absolutely mandatory It Falleth Like The Gentle Rain From Heaven retrospective, during the course of which the Mekons wave an understandably demoralised goodbye to the first phase of their existence (i.e. art school & Richard Branson) while tentatively embracing their second (a Morris dancing hillbilly in a faded Karl Marx t-shirt). I don't think I'll ever get bored of listening to them. I know you won't believe me when I tell you that Smash Hits used to froth at the mouth about this stuff at the time - before either Lester Bangs or Greil Marcus - but they did & I have the dogeared back issues to prove it! On the subject of which... who was Red Starr anyway?*

The Mekons in Smash Hits, 6th September 1979: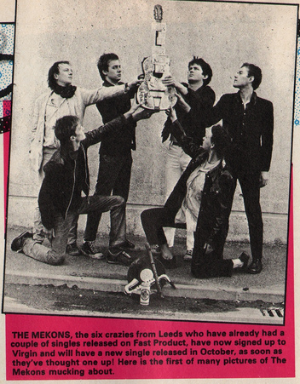 *Ian Cranna apparently.