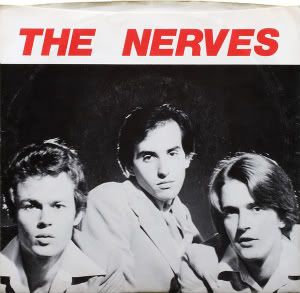 I've been playing a lot of Blondie recently (
Eat To The Beat
?
Love it!
), & "Hanging On The Telephone" inevitably cropped up. Though Debbie Harry & co. scored a massive European hit with it in 1978, it had actually been written, recorded & released 2 years prior on this, The Nerves' solitary 7".
From The Nerves = classic Power Pop. A masterful L.A. updating of the perennial British Invasion/Merseybeat sound, fired up by
The Flaming Groovies
' proto-punk sensibilities & The Ramones incoming blitzkrieg tumult, it mirrored
perfectly
Nick Lowe
's work for the embryonic Stiff label which was simultaneously taking place on
our
side of the Atlantic. Listening to From The Nerves now, the first thing you'll notice is that "Hanging On The Telephone" isn't actually the best song here. "When You Find Out", a crafty play on Herman's Hermits' "I'm Into Something Good" that wouldn't sound out of place on side 2 of the A Hard Day's Night soundtrack (
seriously!
), is even better. All 4 songs sound like potential A-side material &, needless to say, Greg Shaw leapt in with a Bomp! licensing deal the minute he heard them. And before anybody pipes up with lazy
Rutles
comparison or 3, I should possibly point that All You Need Is Cash didn't appear until 1978 - HA!
Though bands like The Fleshtones, The Barracudas & even (
ahem
) The Knack would capitalise on the Power Pop sound a couple of years later, The Nerves' one shot at fame remains it's crowning release. Alive Records' 2008 One Way Ticket retrospective anthologises From The Nerves & a slew of previously unreleased songs (including the
brilliant
"Paper Dolls" which would've made an irresistible 2nd 45) - you can buy it
here
, alongside a ton of post-Nerves releases from The Plimsouls, The Beat & others.