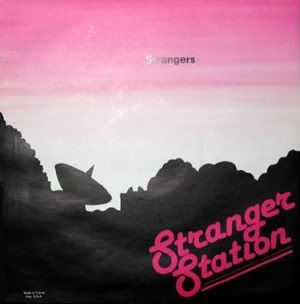 Stranger Station
were conceived towards the end of the 1970s &, based around English duo Simon Driscoll & Judith Golberg, pursued a purely electronic, percussion-free direction. Their only release, 1981's near legendary "Minutes To Silence" 7", popped up briefly on France's über-obscure
Superwop
label &, in recent years, has become a firm favourite on the thriving minimal synth scene. It's not difficult to see why - simultaneously dated & dateless, it's a singularly powerful example of early 80s anodic prog-pop (once heard, never forgotten) that manages to invoke the spirit(s) of Silver Apples, early Human League,
&
70s Radiophonic boffins such as
Paddy Kingsland
. Elemental, melancholy & glacially remote, it could
almost
be the work of a synth-wielding, Moorcock-reading Jandek (now
there
's a thought). It probably goes without saying that original copies currently change hands for around £100.
Almost 30 years on, Driscoll has unearthed both sides of the single & a number of tracks recorded & mixed during the same 1981 sessions for (re)issue as Stranger Station's debut LP, Echoes In Infinity, c/o Mark Schaffer's excellent retrofuturist
Anna Logue
imprint (500 vinyl copies only). Now principally a Driscoll solo project, Strange Station resumed regular live performances last year.