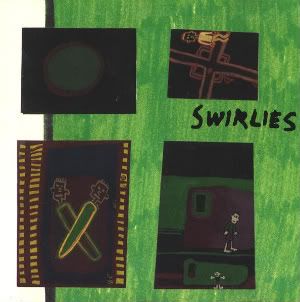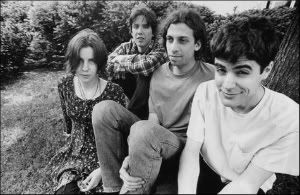 I pulled a box of rammel out from under the bed yesterday &, rather fortunately, discovered yet another box lurking behind it. And in that second, enigmatic box? Lots of long forgotten indie CDs from the 90s, including Eric's Trip, Trumans Water, Pitchblende & my entire Swirlies collection (I honestly thought I'd mislaid them last time I moved house).
Originally a
Go-Gos
cover band (!) called Raspberry Bang (!!),
Swirlies
' primary intentions were sidetracked upon hearing the emerging English shoegaze sound of My Bloody Valentine & the like c/o Boston's college radio. Promptly renaming themselves & vowing to write their own material, the by-now converted Swirlies were
apostolically
indebted to Loveless-era MBV from the off. However, their naked adoration was always applied with a pin sharp lucidity that Kevin & co. went to great lengths to avoid, revealing further layers of buried guitar noise & ambiguous taped detritus beneath their melodious veneer. 1992's
BlonderTongueAudioBaton
, 1 of the 2 LPs they released in their original incarnation, is commonly acknowledged as their woozy, fainéant masterpiece. For me, it sat comfortably alongside Pavement's otherwise peerless Slanted & Enchanted, released just a few months earlier - I certainly played both of them an
awful
lot back then, whilst poring over the minutely detailed cut'n'paste sleeves for morsels of revelatory info. Nowadays, with nu-gaze bands like Wavves, Yuck & Best Coast "
revisiting"
the Daydream Grunge™ sound of
MBV
, Dinosaur Jr, Swervedriver (!), et al, Swirlies' debut LP could conceivably be released next week & still sound totally "contemporary", though your guess is as good as mine as to what that says about the despondent retro-obsessive state of the current indie scene?
What To Do About Them provided a cheap 7-song introduction to Swirlies before BlonderTongueAudioBaton dropped. A bricolage of early
Slumberland
/Pop Narcotic 7"s, obscure compilation appearances & homeless outtakes, it remains a surprisingly effective teaser & I guarantee it'll have you surreptitiously investigating Swirlies' back catalogue further once you've heard it (
mark my condescending words
). And for old farts like me, it's a pertinent reminder that not everybody was moping around listening to bloody In Utero back in the mid-90s...