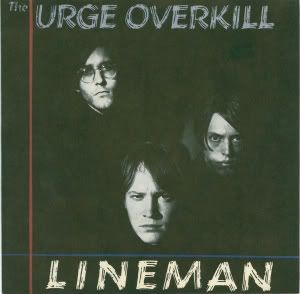 Big Black booted the fire exit open for a disparate bunch of Chicago post-punk/proto-grunge unknowns back in the late 80s, some of them great (Naked Raygun, Rifle Sport, Breaking Circus), some of them not so great (
yuk
).
Urge Overkill
were certainly one of the best, before they nestled up to the corporate teat with their "
polarising
" Saturation LP anyway.
U.O. debuted in 1987 with the nascent
Strange, I...
12" on Ruthless Records, a Chicago-based co-operative (as opposed to a conventional label) founded by punk luminaries
The Effigies
with help from Naked Raygun & Big Black. Ruthless ground to a halt a year or so later following The Effigies' split, necessitating U.O.'s move to Touch & Go, whereupon they released this stately cover of Jimmy Webb's "Wichita Lineman" as a 7" - which is where
I
came in. I expect I taped it off of John Peel's show one evening & bought it in
Selectadisc
the following weekend...
Home to Scratch Acid, Butthole Surfers & Killdozer (& Chicago's nearest equivalent to Seattle's SubPop),
Touch & Go
had already established itself as one of those few labels whose every release was worth investigating &, as the pre-Britpop music scene
here
was still grappling with the fag-end of C86 (Pop Will Eat Itself & Talulah Gosh, God help us...), noisy American bands with names like Urge Overkill seemed obscure, mysterious &, frankly,
terribly
exciting. Also, the British independent scene having been
evangelically
anti-rockist since the late 70s, U.O.'s audacious touting of a Massive Guitar Sound™ (
Cheap Trick
c/o Chrome?) seemed markedly out of step & clandestine. Unfortunately, of course, this all culminated in the humourless ARENA ROCK CATACLYSM (aka Led Zep Redux) of Pearl Jam, Soundgarden & Smashing Pumpkins, but, as there are now several top shelf publications specialising in that kind of filth, we needn't discuss it here.
Though I played "Wichita Lineman" to death, I always preferred it's b-side, "Head On". It reappeared the following year on U.O.'s Jesus Urge Superstar LP, which cost me a fortune on import but quickly earned it's keep via my playing "Your Friend Is Insane" & "Very Sad Trousers" on repeat for the next 2 years...
LINK DELETED - these songs have recently been remastered & made available c/o iTunes.