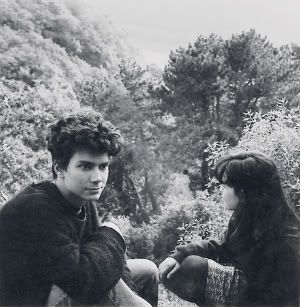 I was up in Manchester a couple of weekends ago &, during my usual slightly frantic trawl of the city's record shops, spotted that Vinyl Exchange had a copy of this Flying Saucer Attack CD, tagged at a crippling £50!
An atmospheric mosaic of gentle psych-folk melodies ("
rural psychedelia
") & jarring freeform feedback, Flying Saucer Attack (named after a
Rezillos
song, of all things) started out as the solo project of Dave Pearce ("guitar, vocals, noise"), with on/off help from then-girlfriend Rachel Brook (drums). Formed in Bristol in the early 90s, FSA spearheaded a transient low-fi shoegaze "revival" that embraced several other loosely connected & similarly minded local acts, including Light, Crescent, Third Eye Foundation, Amp & Brook's own, apparitional Movietone. Starting out as a bedroom-based DIY operation & initially recording on a domestic hi-fi tape deck, FSA's limited edition, hand-assembled early vinyl releases (via 1st generation Avon punk label
Heartbeat Productions
) were not only wildly collectible but also musically unorthodox enough to attract the attention of ace U.S. underground label VHF &, eventually, our own Domino Reccord (latterly the Tesco of alt-rock), both of whom issued several excellent FSA collections over the next few years .
In Search Of Spaces was released on
Bruce Russell'
s sadly dormant Corpus Hermeritcum label in 1996 in a once-only edition of 1000. It's a 50-minute assemblage of extracts from a number of FSA live performances, recorded on the band's only bona fide tour in 1994 & spliced 'n' diced by Russell himself. It contains no songs as such, just collaged (often overlapping) sections of unstructured, experimental, strung out improvisation - the spaces
between
the songs in fact. It's strictly limited pressing & long term unavailability means that it's been unjustly written off as a peripheral release despite it being one of FSA's most interesting & impressive works, rivaling both the enduring "Soaring High" 7" & their landmark
John Peel
sessions. It's definitely worth grabbing a hard copy for yourself if you can find it at a reasonable price (i.e.
less than 50 quid!
) - it's packaged in a lovely, tactile letterpress cardboard sleeve with a selection of unusual hand-printed odds & ends secreted within. Nice.