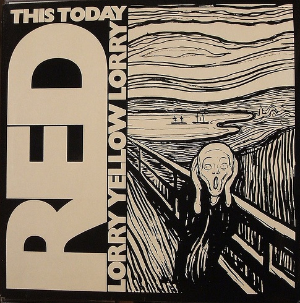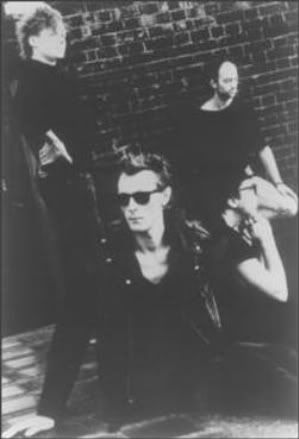 Red Lorry Yellow Lorry formed in Leeds in 1981 & , initially viewed as acolytes of J__ D______, were spurred on by the wave of interest surrounding the emerging drum machine driven, gothic rock sound of local acts
The Sisters Of Mercy
&
March Violets
. RLYL were definitely a "rock" band rather than a purely "gothic" one though, their thunderous assault having much more in common with the parodic rhythm & blues of
The Three Johns
(&,
yes
, Joy Division) than Yorkshire's ethereal snakebite & hairspray coterie. The intense combination of Chris Reed's booming vocal, the droning shit storm of electric guitars & the seismic doubling-up of electronic
&
live drums stills sounds pretty powerful to me. That's not just sentimental middle age, I hope?
The This Today 12", released via York's celebrated
Red Rhino
in 1983, was/is a round-up of highlights from the band's initial trio of 7"s for the label. The lead track, the sombre "Beating My Head", is a complete re-recording of the original, rather undeveloped 1982 single version (which was actually lifted directly from the demo cassette that got them signed). The remake is,
for once
, irrefutably superior to it's predecessor: in slowing the pace, piling on further layers of crackling guitar noise, & excising the intrusive Psychedelic Furs-style sax, it's vivid sense of foreboding becomes almost stifling. Overleaf, the cryptic, derisive "He's Read" remains not only my favourite RLYL song, but one of my favourite songs from that era
full-stop
.
A further run of excellent singles (all since compiled by
Cherry Red
) led to their debut LP, the ominous Talk About The Weather, a seldom acknowledged period archetype that's dated significantly better than concurrent albums by The Sisters Of Mercy, Skeletal Family or,
God help u
s, The Mission.
RYLR reformed a few years back to perform live & released a handful of new songs through their
website
. Chris Reed currently performs solo, & semi-acoustically, as
ChrisReedUnit
.