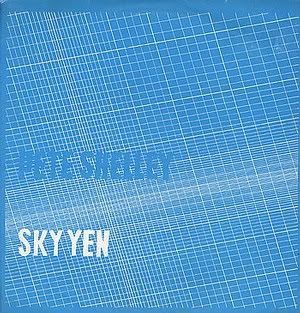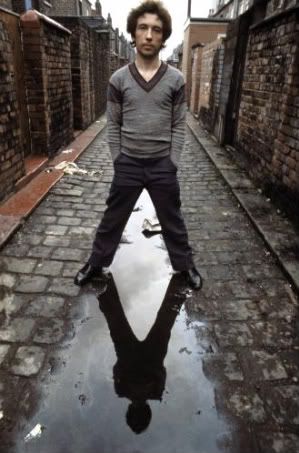 Ex-Buzzcock continuum... Sky Yen is a very rare record indeed. And, no, I don't actually own a copy (more's the pity).
Released on his own, short-lived Groovy label in 1980 in a once-only edition of a 1,000 copies, Sky Yen was actually recorded in March 1974 while Pete Shelley (née McNeish) was still a student at Bolton's Institute Of Technology. It's a primitive Tangerine Dream/Cluster-influenced D.I.Y. oscillator workout that harks back to Eno's caustic Roxy-era experimentation in "The B.O.B. (Medley)", etc - the result of too much time spent sniffing Humbrol modelling glue whilst listening to No Pussyfooting with the curtains drawn, perhaps? Joking aside, Sky Yen is actually a rather impressive achievement - Shelley constructed the oscillator himself from a kit with the intention of soundtracking a film made by fellow student Howard Devoto, & the beginnings of "Boredom"'s 2-note
avant garage
guitar solo were definitely gestating somewhere deep within it's mordant sheets of lacerating electronic static, I think? Prior to hearing it, 12 year old
moi
had only previously encountered this type of acutely experimental
kosmiche
abstraction during the harsher passages of
Vertigo's Kraftwerk reissues
, or via our local library's scratchy Stockhausen LPs (the latter surreptitiously tucked away behind dogeared copies of Selling England By The Pound & Deceptive Bends).
Bizarrely, when Sky Yen was eventually released in 1980, financed by Shelley's Buzzcocks earnings, it was reviewed in Smash Hits by (of course) the legendary Red Starr. Unfortunately, he wasn't too keen on it: "No Songs, no tunes, no band, no vocals - just 2 sides of solo oscillator droning gently away, note by note, up & down, softly distorted by echo, occasionally sounding like an aeroplane. The second side is more of the same with rather less echo... The title indicates a desire to drift off into the wild blue yonder & this is the soundtrack... Why anyone would want to actually buy this double dose of droning unless they had trouble sleeping is (a) mystery." He must've been in a particularly bad mood that week as he goes on to roundly slag off Television Personalities' "King & Country" as well (there's a nice pic of The Red Krayola though!).
Coincidentally, Sky Yen inadvertently mirrors Throbbing Gristle's formative experimental sessions, which were taking place at their Martello Road safe house around the same time. It also sounds remarkably similar to the much earlier exploratory impulses of the record I'm planning to post next...
LINK REMOVED: Sky Yen has now been reissued c/o Drag City, along with the rest of the Groovy back catalogue.