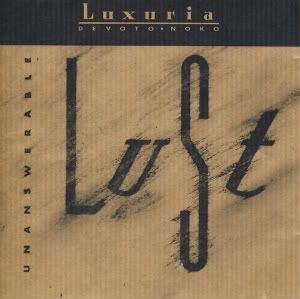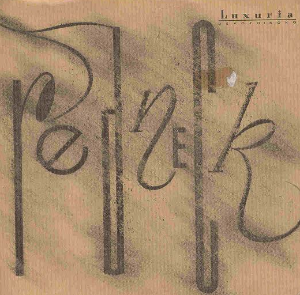 After Magazine's collapse in 1981, & following his brief solo sojourn with the Jerky Versions Of The Dream LP in 1983, Howard Devoto dumped Virgin Records for Beggar's Banquet, hooked up with multi-instrumentalist
Noko
(previously bassist in The Cure & Pete Shelley's band) & formed the oft-maligned, & now virtually forgotten Luxuria (Adultery originally, a
much
better name if you ask me).
I'm as guilty as anybody of ignoring them at the time. In 1988 I was far more interested in the torrent of rough & ready underground rock concurrently spewing out of North America &, aside from perusing a couple of non-committal articles in Melody Maker, Luxuria barely impacted on me. Though I'm now ashamed to admit it, Howard already seemed like a spent, middle aged figure to me back then. Predictably, as I hurtle towards middle age myself, Luxuria's music has belatedly begun to aquire a faded, decadent allure. Unanswerable Lust's melodies - cloaked in an opulent fog of gaudy 80s production ("conform to deform", etc) & sounding not unlike Prefab Sprout or Breakfast Club-era Simple Minds in places - are often difficult to pin down. Engulfing themselves in so much ostentatious embellishment seems rather self-defeating in retrospect, dating their album indelibly, & I can't help wondering what these songs might've sounded like if they'd been recorded in more sober, stripped back circumstances. Tellingly, the least production heavy song here, the relatively unfussy "Lady 21", is also one of the most memorable. Howard's lyric's, however, never fail to impress, veering between sly, self-mocking sarcasm & riotous, melodramatic pretension. Unlike most rock writers, his words generally work as well on the page as in performance.
I've added a couple of related tracks: the spirited cover of Dylan's
"She's Your Lover Now"
from their debut
Redneck
12" (with most of
Shriekback
moonlighting as their backing band), & a remix of the eponymous "Luxuria" (from the Public Highway EP single). I'm still missing the
other
Public Highway b-side, "Sickly Thug & I", drop me a line if you can help... (N.B. Some of you may also find
this
of interest.) Bafflingly, whereas Luxuria's second LP, 1990's less absorbing Beastbox, is still easily obtainable via Amazon & iTunes, Unanswerable Lust has been deleted for several years.
Luxuria split, largely unlamented, in 1990. Howard drifted off into a career as a photo archivist & avoided the music industry for the next decade, only re-emerging in 2001 with
Buzzkunst
, a one-off collaboration with fellow ex-Buzzcock, Pete Shelley. Noko, meanwhile, formed the surprisingly successful
Apollo 440
with a couple of old school friends, & currently plays in
Raw Chimp
. Both Howard & Noko are, of course, part of the reconvened Magazine, Noko replacing the late, great
John McGeoch
.