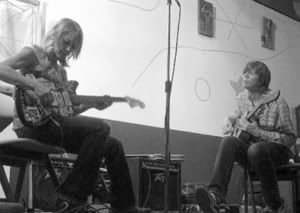 Of all Sonic Youth's many on/off side projects, Mirror/Dash are undoubtedly my favourite. An exercise in somnambulistic lo-fi guitar-based improv grot, they might just as easily have been conceived by a couple of bored, provincial, narcoleptic 14 year olds (with a pawn shop Tanglewood, a 10 watt practice amp & Dad's careworn copy of the V.U.'s Banana album at hand) as S.Y.'s Kim Gordon & Thurston Moore. And therein lies their charm.
Debuting in 1992 with the otherworldly
"Electric Pen"
7", Mirror/Dash have sanctioned only a scant handful of records in the 2 decades since, principally on vinyl. Come Across -
a CD
- accompanied an exhibition of Kim's abstract
watercolours
at
KS Art
, NYC in March 2008, & was released in a strictly limited edition of 100 hand numbered copies. At just over 5 minutes' in length, I'm guessing you're as reluctant as me to cough up the inflated £50+ price tag it currently commands (it must be
murder
being a Sonic Youth completist these days). Reminiscent of Sonic Youth's earliest experimental recordings, it's eerie substratal sprawl perfectly compliments Kim's illusory paintings, & suggests that Moore/Gordon share an uncanny creative telepathy - not surprising, I suppose, considering they've been a couple since 1981? Incidentally, the project is titled after their nicknames for one another: "Mirror" being an alliterative pun on Moore, & "Dash" on
Flash
Gordon. As Come Across is
so
brief, I've bundled it with their trance-inducing May 2005 live set from Scotland's Le Weekend festival - if this doesn't convince you you to track down their records then,
erm,
you're probably reading the wrong blog...