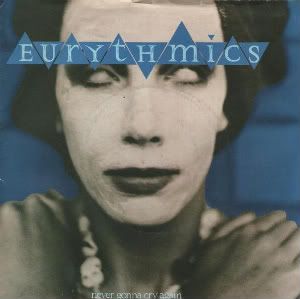 I know what you're thinking...
& you're wrong
. I'm not an enormous Eurythmics fan either, but "Never Gonna Cry Again", Annie Lennox & Dave Stewart's first release after dissolving The Tourists, may surprise you. From 1981's
In The Garden
LP, it was recorded in Cologne with Conny Plank & features contributions from Les Vampyrettes (aka Can's Holger Czukay & Jaki Leibezeit), DAF's Robert Görl, Blondie's Clem Burke, & Markus (son of Karlheiunz) Stockhausen. Cologne evidently had a very profound effect on them: "Never Gonna Cry Again" is a superior slice of Krautrock-inspired, Leibezeit-driven motorik pop that quietly anticipates Stereolab's perennial Neu!-lite chug. It's also notable for it's flute solo - though Lennox had studied the instrument at London's Royal College Of Music, this is one of very few occasions that she played it on record. The b-side is just as impressive - "La Sinistere" is a nightmarish, semi-improvised piece with Czukay's atonal French horn featured prominently in the mix & Leibzeit on drums again. The result? A Hammer horror soundtrack with tenable Pierre Schaffer leanings. Ever the completist, I've also included "Heartbeat, Heartbeat", the
raucous
b-side of their follow-up single, "Belinda". Czukay, Leibzeit & Stockhausen are all credited with brass on this track, while Görl takes over on drums. Like "La Sinistere", it sounds remarkably like something Malaria! (or Rough Trade-era Wire) might've put their name(s) to. So, where did it all go wrong? When In The Garden stiffed, Lennox & Stewart withdrew into hermitic duo mode, penned soon-to-be chart behemoths "Love Is A Stranger" & "Sweet Dreams (Are Made Of This)", & allegedly toured the country in a horse box (!), performing live with just synths & pre-recorded backing tracks. However, long after they'd become a regular TOTP fixture, they still found time to record
this
intriguing single with T.G.'s Chris & Cosey, while Lennox's vocals feature on much of Robert Görl's underrated
Night Full Of Tension
LP.
N.B. Check out this excellent
Old Grey Whistle Test
perfromance, featuring Lennox in full-on Thomas Jermone Newton mode, & both Czukay & Burke in reserve - it's their first TV appearance
anywhere
apparently. There was an
official video
too, though it doesn't look like the budget stretched much further than a day return to chilly South End.