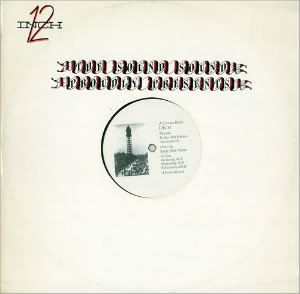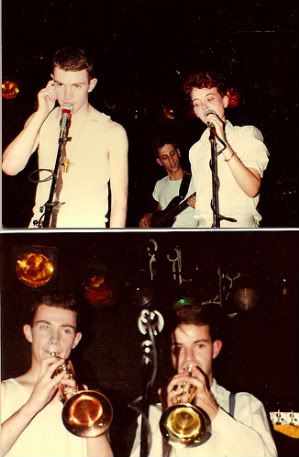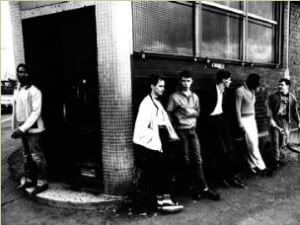 Sit me down in a pub, ply me with gassy lager & get me rambling on about Factory Records, & it'll only be a matter of time before I'm drunkenly arguing the case for The Durutti Column &
A Certain Ratio
being the label's definitive acts, rather than
youknowwho
.
Though the majority ACR's records were, in retrospect, actually rather patchy, I'd still put forward 1982's
Sextet
LP as one of Factory's finest releases EVER. An uncanny hybrid of grainy xeroxed ethnicity, oddly detatched Chic-isms & ghostly Miles Davis inferences, it's without a doubt the band's masterpiece. This subsequent 12" release features a totally re-recorded version of that album's highlight, the opiated sub-zero funk of "Knife Slits Water" - a noticeably gentrified rendition that extends the running time to 10 minutes, with a far slicker backing track (pre-empting the uninviting academic self-absorption of their "lost" A&M period perhaps), & a brand new Donald Johnson vocal replacing the recently departed
Martha Tilson
's earlier, eerier attempt (does
anybody
know what she's done since?). Though I'll always prefer the original LP take, there's no denying that this drastic revision
sounds
terrific, & that ACR were way ahead of New Order & the like when addressing the dance floor (at
The Hacienda
or further afield). It's closer, in fact, to contemporaneous chart worriers like Pigbag or early Lynx, though far,
far
superior. B-side is the disembodied 11-minute mutant disco suite, "Kether Hot Knives". Unknown pleasures indeed.
Link removed:
Both sides of this single have since been reissued - on
Les Temp Modernes
' extended edition of I'd Like To See You Again, & Universal Sound's Sextet CD.