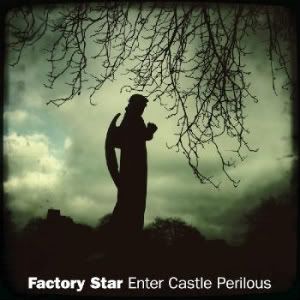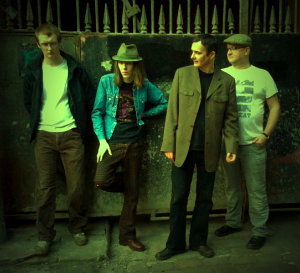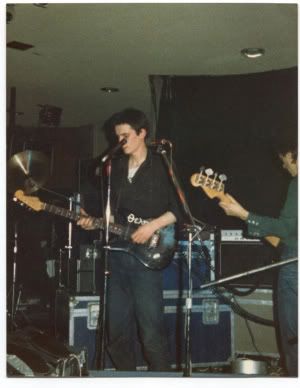 As you might've already noticed, there's been a spate of uncommonly fine releases from a slew of resurgent 80s post punk acts of late. Both The Nightingales & Vic Godard's Subway Sect have released some of the best music of their careers across their last couple of LPs, while the debut album from Davey Henderson's Sexual Objects, the rather dashing
Cucumber
, is a
must
-have. Elsewhere, rumours persist that Magazine are currently back in the studio, & even
übergrüpenführers
The Fall recently managed to get their act together long enough to complete -
after an alleged nudge or 2 from temporary benefactors Domino
- their sturdiest LP in more than a decade. So I'm very pleased to report that Martin Bramah has finally picked up his guitar again &, with the stormy Mancunian Gothic of Factory Star, thrown
his
hat into the ring too...
Bramah, I suspect, is forever condemned to labour in the shadow of his extraordinary lineage, being both an original member of The Fall circa 1978's Live At The Witch Trails (& later as Brix Smith's replacement on 1990's latter day high water mark, Extricate), & the driving force behind The Blue Orchids, whose flawless 1980 debut,
The Greatest Hit
, still sounds staggeringly good. History suggests that Bramah was initially slated to be The Fall's
vocalist
until M.Smith's less than rudimentary guitar talents necessitated they swap roles (!), while the Orchids' celebrated tenure as Nico's backing band - during her
somewhat unexpected
self-imposed exile
in Greater Manchester during the mid 80s - is almost too perfect/bizarre to be true. On reflection, Bramah's past glories
could
be considered an unfortunate stumbling block in the light of his subsequent work, a hindrance rather than a benefit. How, exactly, is he expected to top all
THAT
?
Factory Star formed in late 2008, Bramah recruiting Hop Man Jr. (ex-Monochrome Set) on organ & fellow ex-Fallen Steve & Paul Hanley, on bass & drums, after a fleeting false start with a few ex-
Sandells
. Following a year's worth of warmly received live shows (& the occasional Radio 6 session, c/o Marc Riley), wherein they drew upon recent Bramah's
solo work
& his noted compositions for The Fall ("Rebellious Jukebox",
"Psycho Mafia"
, "Hilary", etc), the Hanleys departed, to be replaced by the rest of the current line-up: Chris Dutton & Tom Lewis. The Hanley-era line-up's sole recorded document is the uncharacteristically breezy "Lucybel", more a tentative salutation than a full-blown statement of intent. However, last month's debut album, the bruised & blistered Enter Castle Perilous, renders all previous Factory Star activity completely obsolete. Putting it bluntly: it's a fucking belter.
Released through Exeter's intriguing
Occultation
label - also currently home to The Wild Swans & The Distractions - Enter Castle Perilous is simply the most striking LP I've heard all year (only Crystal Stilts' & Deerhunter's latest compare). Whereas later incarnations of The Blue Orchids acquired a palpably slicker cloak of accessibility (refer to Les Temp Modernes' edition of The Sleeper for further listening), Enter Castle Perilous gleefully scratches off the veneer with a ragged "live in the studio" approach redolent of The Greatest Hit's snarling proto-Nuggets garage band sound. Reputedly, the band were booked into the studio for a couple of days with the intention of recording a mere 7" but
just
...
kept
...
going
.
The result? A junk sick tumult of ramshackle shanties for a doomed underclass. Bramah's vivid gobshite vernacular conjures up a ghastly twilit half-life of spilled pints, dogshit thoroughfares, piss yellow streetlights & septic love bites. Valves crackle, the vocals fracture & the Farfisa drones like a Salford Manzerak as scuffles sporadically break out in dingy pub function rooms. Fortunately, the unflinchingly grisly character sketches are shot through with just enough pitch black gallows humour to render these disheveled losers, & their desperate travails,
almost
endearing (the degenerate "Cheetham Bill" for instance). On this evidence, Bramah's semi-Blakeian lyrics are some of the finest to come out of Northern England since Charlie Keigher penned the first couple of
King Of The Slums
EPs, & they share a similarly squalid sense of disgusted semi-amusement. 10 songs, great choruses, no filler. This is a
fantastic
record, a bloodied, feverish masterpiece. Treat yourself & buy the bloody thing, I'm sure they'd appreciate the cash...
N.B. I'm not posting Enter Castle Perilous in full as it's brand new & readily available, but here's a sneak preview in the form of the opening (but not the best) track: