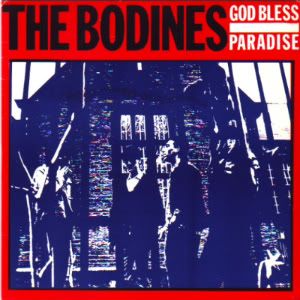 Yet another band to emerge from the bustling British C86 scene, The Bodines formed in Glossop, near Manchester, & their high energy pop sound drew upon the breakneck jangle typified by Josef K, Echo & The Bunnymen & (early) Orange Juice a half decade prior. You can see why Creation's Alan McGee was immediately enamoured by them- though they may
possibly
seem like a diaphanous
Postcard
throwback in retrospect, their combination of killer melodies, decent haircuts & well-honed
live
performances must've been positively invigorating in 1985, at the height of the self-defeatist "shambling" movement, & with the inspid
Rattlesnakes
edging towards the top 10.
Their divine debut, the frenetic Joe Foster-produced "God Bless"/"Paradise" 45 (CRE 016), appeared in mid 1985, housed in Creation's trademark folded paper/polythene sleeve combo. Though it's been reissued on various incarnations of the Creation Soup series, it's yet to be included on an all-encompassing Bodines compilation (
because there's never been one, hint-hint
) & still isn't available c/o iTunes & the like. A tragic oversight that, it's undoubtedly one of the finer debuts of it's era. Sort it out, Alan!
On the back of their 2nd Creation 45, the magnificent "Therese" (also a highlight of the original
C86
cassette), the band were poached from Creation by the perennially uncool Magnet Records, home to Darts, Alvin Stardust & (
choke
) Bad Manners. Magnet must've been overjoyed, The Bodines seeming like a far safer commercial bet than either Primal Scream or The Weather Prophets, 2 Creation big hitters who had already attempted to cross over into the mainstream via McGee's flawed
Elevation
project . Groomed for "
inevitable
" chart success, The Bodines' debut album - 1987's Ian Broudie (over)produced
Played
- underperformed spectacularly & it's lead-off single, a
glossier mix
of "Therese", missed the charts entirely. Skint & demoralised, the band split prematurely, though they've regrouped on several occasions since. However, even if they'd only ever released this cracking 45 they'd
still
have earned themselves a place in my affections - 25 cynical years on, it still sounds like a breath of fresh air...