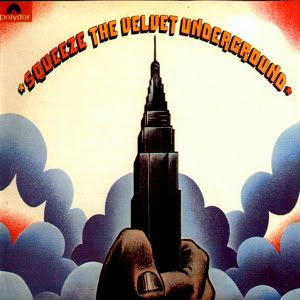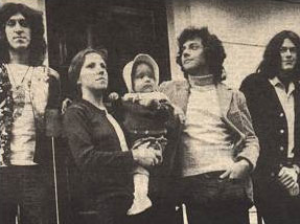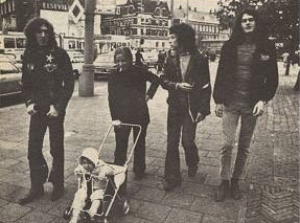 Once, back in the early 90s, I saw a copy of Squeeze in a record shop window here, in fine condition & priced at a measly couple of quid. Typically, in the time it took me to sprint to the cashpoint & back -
15 minutes max
- it'd gone. Needless to say, I've never seen another one.
Essentially a
Doug Yule
solo LP, Squeeze was recorded in London in Autumn 1972, following The Velvet Underground's first visit to Europe - Lou Reed & Sterling Morrison both already having departed - to promote Loaded. Moe Tucker, though still playing drums on tour, was replaced on the studio sessions by Deep Purple's Ian Paice, reputedly as a "cost-cutting measure" (she'd been touring with her baby daughter Kerry in tow), though it's well known that she & manager Steve Sesnick didn't see eye-to-eye about much by that point. When Sesnick packed the rest of the then-current line-up, Willie Alexander (keyboards) & Walter Powers (bass), off home too it was left to Doug to play everything else (a little saxophone aside). Though undoubtedly a final, opportunistic attempt by Sesnick to (ahem)
squeeze
a little more cash out of the Velvets' ailing reputation, the LP itself wasn't the out-&-out travesty it's often been painted as - certainly by the prevailing bearded/flared/stoned standards of the era anyway. With hindsight, it's whimsical street vignettes sound
much
closer to Nils Lofgren or Stealers Wheel than anything from the 3rd V.U. album or the Yule-dominated Loaded. It's strange to consider, however, that the widely reported (& now legendary) Reed/Cale/Nico show at
Paris Bataclan
had already taken place by the time recording commenced.
Squeeze was released in February 1973 via Polydor Record's European wing & was never officially issued in the States. Yule, to his credit, evidently realised the game was up & dissolved the "band" after
a final British tour
, since when Squeeze has remained categorically out of print. Despite it's unavailability, it's
significantly
never quite achieved "mythic" status, & though it compares favourably to Lou Reed's slightly underwhelming
eponymous solo debut
(Velvets-heavy, also recorded in London, & released a year earlier), Cale's resplendent Paris 1919 (which appeared only a month after Squeeze) still towers head & shoulders above either. Mind you, all 3 of those LPs were largely ignored upon release, our
forward looking
music press generally being far more interested in the dismal travails of Wishbone Ash & Jethro Tull back then (check out an old copy of ZigZag or NME if you don't believe me).