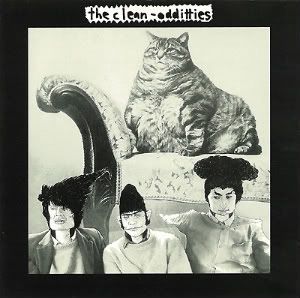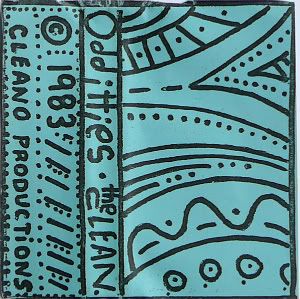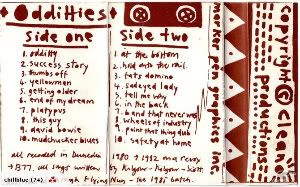 Blimey, I've just noticed that some opportunistic scoundrel is flogging Odditties on Amazon for £140! Though it's definitely
not
the best place for The Clean novice to tune in, it's obviously a lot harder to find than I thought, so here it is...
Brothers Hamish & David Kilgour formed The Clean, with close friend Robert Scott, in Dunedun, NZ in 1978, but waited until 1981 to release their debut 45, the irrepressible "Tally Ho!", on New Zealand's rightly renown
Flying Nun
. Only the 2nd record the label put out, it unexpectedly made #19 on the
New Zealand charts
, turning a healthy profit & helping cement their position at the forefront of international independent music. Odditties was recorded throughout "
1980-82 on a Revox B77 2 track (supplied by The Dead C)
", & was "
originally released as (a) super lo-fi cassette
" on the band's own Cleano label in 1983. Anybody expecting a further dose of The Clean's breezily infectious pop-chug might be in for a bit of a shock, as Odditties frequently relinquishes the band's trademark chirpy jangle for shambling discord. The titular opening song is a veritable Clean classic, however, & there are several other threadbare gems buried amongst the detritus, so keep listening. As the images reproduced above imply, Odditties was a genuinely hands-on/ad hoc affair, to the extent that nobody appears to know how many copies of the original tape were circulated, or how many different sleeve designs were produced (!). Flying Nun briefly reissued it on CD in 1994 with a handful of extra tracks, & that's the version I've sourced here.
A
second volume
of Oddities, comprised largely of live recordings & covering the years 1979-84, was issued in 1988. I've never seen a copy,
have you?
Band That Never Was - LINK REMOVED (Flying Nun reissue now available)