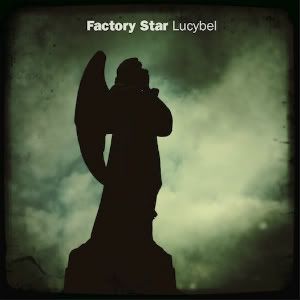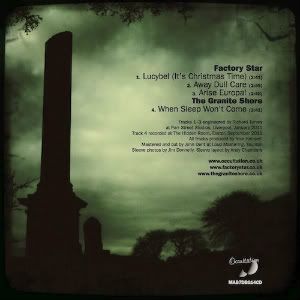 So then, 7 shopping days left until Christmas... I guess it's high time I mentioned this little charmer? A house move, & an intermittent 'net connection (cheers, Virgin), have reluctantly forced me off line recently, otherwise I'd have written about it much earlier...
Factory Star's
"Lucybel"
has been hanging around for a while now, I believe? I'm pretty sure I heard a tentative version of it this time last year - possibly recorded by an earlier incarnation of the band? Sounding less
obviously
disheveled than anything on their excellent (still!)
Enter Castle Perilous LP
, it's an unusually straightforward seasonal love song that breezes along beatifically in the style of post-Cale Velvets (rather aptly... it's a
Yule
-tide release after all). Redolent, musically, of The Sexual Objects' & Subway Sect's recent efforts, Factory Star are lyrically much darker than either, their rheumy, red-rimmed eyes & the cobwebs on their dilapidated overcoats suggesting that, despite the tender sentiments, they might've been surreptitiously bedding down in the local graveyard when they penned it (is the protagonist a fugitive murderer lamenting a dead lover, perhaps?). Melodically, it's one of those rare singles that you casually pop onto the turntable & find yourself still whistling along to 45 minutes later, ambushed, no doubt, by the rowdy Rowlsey Street chorus. Nevertheless, it's not
too
difficult to see why the band chose to omit "Lucybel" from the album proper - it's inclusion would have provided an uncomfortable dash of intrusive light relief amongst the lurid netherworld of overcast back alleys & shabby, skulking hopeless cases it's 10 bleak songs depict (making it an ideal standalone release, of course). As an observer & annotator of besmirched Northern Paperback Noir™, songwriter Martin Bramah remains virtually unrivaled - he & his fine band have released 2 0f my favourite (& certainly most
listened to
) records this year. Meanwhile, The Fall complacently stumble along like a 4th rate Nuggets act in search of inspiration & a half decent tune, while Steven Patrick - who, by his own admission, would rather throw her arms around Paris than Ancoats these days - has long since crumpled into defeated middle age. Oh,
Manchester
...
The b-side of the 7" is a stately cover of Enter Castle Perilous' "When Sleep Won't Come" by fellow Occultation artists,
The Granite Shore
. Though I know next to nothing about them, their gentle, twilit interpretation of Bramah's funereal lullaby suggests that a forthcoming LP (due next year apparently) will be well worth a listen. The CDEP features both songs & adds a couple more from the Factory Star LP - "Away Dull Care" (a personal favourite) & "Arise Europa" (whose hurtling organ driven ruckus invokes the caustic battle cries of The Greatest Hit).
You can listen to both sides of the single on the Occultation website.
You'll find more of Jim Donnelly's evocative photography there too. Happy Grimbo.