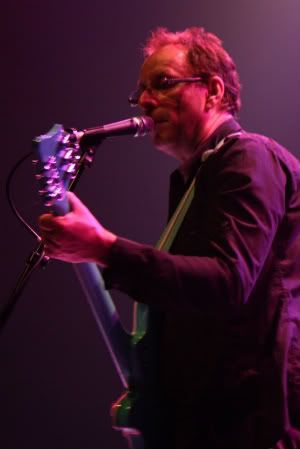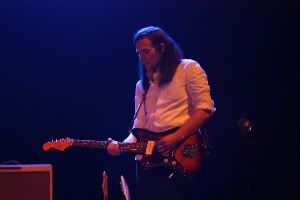 I've been fortunate enough to see the mighty Wire twice this year - initially, back in February, at Nottingham's revitalised
Rescue Rooms
&, more recently, at Sheffield's so-so Plug earlier this month. They were were terrific on both occasions - they're back on undeniably great form at the moment - & both shows were encouragingly well attended too (on the back of their latest,
marvelous
Red Barked Tree
LP, no doubt). Though, in every Wire crowd, there are always one or two elderly lags in Stiff Little Fingers shirts who persist in knocking back an excess of gassy lager & bellowing for "12XU" like it's still 1979, Wire reject such antediluvian requests outright these days, concentrating instead on current material & surprising selections from far flung corners of their prodigious back catalogue - & they're sounding all the better for it.
February's Nottingham set list focussed on their most recent brace of albums, Red Barked Tree (their finest full length work since 154 -
fact
), Object 47 & Send, with a handful of older numbers dotted throughout (i.e. "Kidney Bingos" & the perennial "Boiling Boy"). The current tour CD,
Black Sessions
(recorded last May for
Bernard Lenoir
's celebrated French Inter radio show, & released generally on 7th February), features a very similar song sequence. The Sheffield show, however, was quite staggering. Drawing extensively on their "difficult" 1980, post-Harvest era, Wire found room for half a dozen rarely aired tracks from
Document & Eyewitness
, & a further handful from subsequent archival collections like Behind The Curtain / Turns & Strokes. Conjecture suggests that, as the majority of those songs have never been attempted properly before (by Wire, at least -
Colin Newman
utilised a few of them on his early solo LPs, albeit in radically rearranged versions) the current line-up might be about to finally record them. Quizzed as to what the band would be up to in the coming year, Graham Lewis has confided that an "
unusual
" new project is already underway - leading to speculation that Wire might finally be in the process of provisionally assembling their aborted 4th Harvest LP. The possibility of both
complete
live sets from Document & Eyewitness being released has also been discussed - the controversial Electric Ballroom performance only ever having been available in severely truncated form until now, of course. All in all, 2012 sounds like a very exciting 12 months for the rabid Wire aficionado.
To whet your appetite, here's a decent recording of Wire's recent London show (23rd November at
XOYO
), featuring
exactly
the same set I saw them play in Sheffield. I discovered it during one of my occasional expeditions "off-road" into the murkier recesses of the 'net so I've no idea who's responsible, but
many
thanks to he/she/they anyway...
n.b. Photographs by Steve Worral, from Wire's performance at Ray Davies' Meltdown, June 2011.