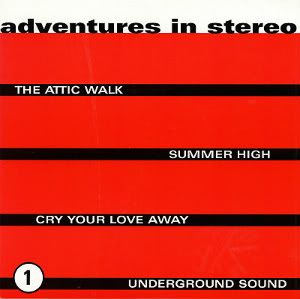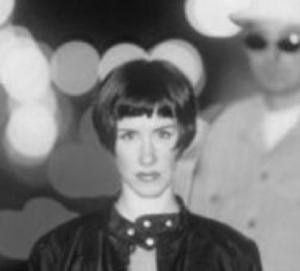 Jim Beattie, founder member of
Primal Scream
with Bobby Gillespie, formed Adventures in Stereo in Glasgow in 1994, following the break-up of his post-Primals project,
Spirea X
. Joined by ex-Spirea vocalist Judith Boyle, & Simon Dine (who had managed & co-produced the band towards the end of their brief career), the trio's initial trilogy of low-fi 7" EPs provided a hazily melodic, pop art distillation of The Beach Boys finest (pre-Smile) moments, & Phil Spector's early girl group productions. Based around Dine's evocative 60s-derived loops, the songs themselves were often puzzlingly fragmentary, pop art miniatures fading in & out of earshot like alluring excerpts from half remembered 60s chartbusters. Despite the bargain basement budget, their records were so seamlessly produced that it was often difficult to identify at which point the sampling wizardry ended & the authentic musicianship began. Their sonic magpie approach elicited comparisons with Stereolab & early Broadcast but, though all 3 bands certainly shared a similar retrofuturist aesthetic, A.I.S. actually had far more in common with sampledelic New York duo Dymaxion (though their records were markedly different). One thing A.I.S. definitely were
NOT
, however, is
"twee"
. Twee =
Belle & Sebastian
,
Talulah Gosh
flexidiscs, bed wetting virgins with Hello Kitty hair slides, & grown men in shorts murdering jingle-jangle Byrds riffs. A.I.S. always sounded more like Saint Etienne being dragged backwards into an undulating Joe Meek vortex.
Dine split after the first few singles &, while both parties briefly continued to use the A.I.S. moniker, he would eventually knuckle down to mastermind the pandemically groovy
Noonday Underground
(& end up collaborating with mod coffin dodger
Paul Weller
, bizarrely enough!). Noonday Underground recorded a handful of LPs but called it a day when vocalist Daisy Martey jumped ship to join Morcheeba (yuk). Beattie & Boyle released a couple more A.I.S. albums, with live musicians playing a greater part in proceedings as they progressed, but both of them have slipped away into (willing?) obscurity since calling it quits in 2000. Does anybody have a clue what either of them are up to nowadays?
The Attic Walk EP was Adventures In Stereo's debut release, a 4-song 7" on their own Kinglake label, from 1996. I'm a great fan of all their records, but this one's a particular favourite.