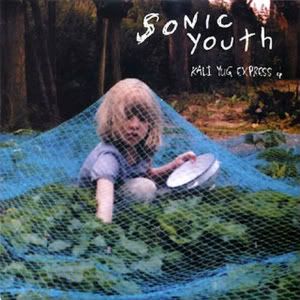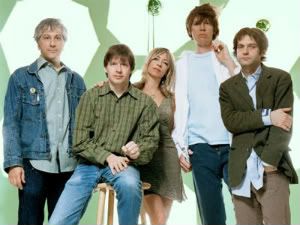 A quicky post. Sonic Youth's Kali Yug Express is currently fetching £100+ on Discogs & the like, which makes it ideal blog fodder, I suppose? A 3-song blue vinyl 10", a meagre 500 copies were given away with the French edition of the Murray Street album. Though recorded in & around the Murray Street sessions, these tracks were actually out-takes from the band's ancillary soundtrack projects,
Things Behind The Sun
&
Demonlover
, & reflect their penchant for freeform, experimental improvisation. Kali Yug Express was also released as an extended promotional CD, though the additional songs thereon were merely selections from the band's pre-Geffen back catalogue, as per the Screaming Fields Of Sonic Love compilation.
n.b. In Japan, Murray Street was appended with an exclusive bonus track, "Street Sauce", which I've yet to hear. If anybody can slip me an mp3 of it I'd be pathetically grateful (thanks).