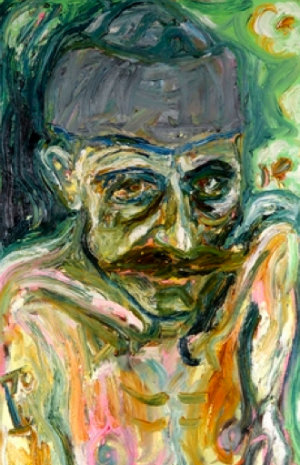 Next, an eleventh hour disencumbering of phlegm from the twilight of Thee Headcoats' esteemed career. Originally released in 1998 in conjunction with Brighton's
Slab-O-Concrete
press, & accompanied by a slim paperback collection of Billy's poetry, art &
school reports
, the wryly entitled 17% Hendrix Was Not The Only Musician was also issued - minus booklet - by
Sympathy For The Record Industry
(in the States) &
ReR Megacorp
(in Japan), though all 3 editions have been deleted for more than a decade.
Musically, it's business-as-usual - the standard selection of spiky Childish originals & rasping garage punk cover versions. Nevertheless, even a "standard" Childish collection warrants a cursory listen &, typically, 17% Hendrix... is not without it's customary smattering of unkempt gems. Highlights, for me, include the cheeky
Stuckist
harangue of "Art Or Arse (You Be The Judge)" (complete with a scene-setting cameo by
Mad Tracey From Margate
), the disheveled careen through The Ramones'
"Pinhead"
(which sounds like it might've been mastered on duct tape), & Billy's a capella rendition of
"You Make Me Die"
. The bona fide
croon
he musters up on the latter is quite a treat!
n.b. More to follow, oh yes.
The Rise & Fall of a Double