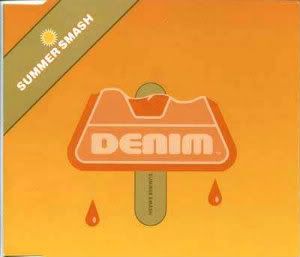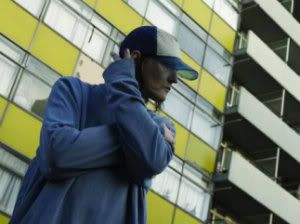 It must be "a sign". The sun came out this afternoon - for the first time in weeks it seems - & then
this
prescient pop gem randomly popped up while I was shuffling through iTunes. So it's only natural that I should post it here, right?
I'm sure you're au fait with
the whole agonising story
by now. Back in August 1997,
Denim
were poised to unleash their surefire "top 10 with a bullet" masterstroke, the radiant "Summer Smash" 45. The band had recently completed a highly successful tour support with Pulp (themselves at the peak of the notoriety, Jarvis having wittily clambered onto the
Brits' stage
a few months earlier), & Radio 1 had added "Summer Smash" to their all-important daytime schedule. Thousands of coloured vinyl 7"s, CD & (I've been led to believe) cassette singles had been pressed & were stacked in EMI's warehouse, ready to be shipped out to the country's record shops (& there were still rather a lot of
those
back then remember). At which point... Diana, Princess of Wales' chauffeur driven limo slammed into the Pont de l'Alma underpass at high speed & EMI, in an incongruous display of "
good taste
", cancelled the record's release for fear of further upsetting the grieving nation. All copies of "Summer Smash" were recalled & swiftly incinerated, & the band's completed 3rd album - the elusive Denim Take Over - was subsequently aborted, while Lawrence unceremoniously dropped. Rumour suggests that -
actually
- EMI had been wanting to off load Denim for some time, & opportunistically used
The Queen Of Hearts
' untimely passing as a convenient excuse (surely not!). Having vanished overnight, "Summer Smash" became an instant collector's item (copies now fetch £50+ on eBay), while the Denim Take Over master tapes were spirited away to a maximum security vault, several miles beneath Abbey Road (though glitch-ridden mp3 are available online if you know where to dig). A handful of "Summer Smash" EPs fortuitously escaped the rout however, & Lawrence himself claims to have liberated a box of each format before they were junked, so perhaps he's allowed a few to leak out over the intervening years for posterity's sake, & to help perpetuate the myth?
It's strange to think that, if "Summer Smash"
had
made it onto Top Of The Pops, we might now fondly look upon Lawrence as an eccentric one hit wonder, a momentarily amusing 90s equivalent of 70s chart chancers
Sailor
or
Chicory Tip
, rather than the
Lieutenant Pigeon
-inspired Syd Barrett figure he's since been idly painted as? And it's chilling to consider that he may have become a staple of those ghastly "100 Hit Songs Of The 90s"-type compilation shows that have littered the nation's t.v. schedules for the last decade as a result - a narrow escape, sir! (It's a tragedy that Lawrence's proposed appearance on Ant & Dec's show, driving a dodgem in Mozart attire, never transpired though.)
So then, here's "Summer Smash" in all it's sunburnt splendour, backed with the "Sun's Out" (bed & breakfast weirdness in Paignton with Little & Large) & a wholly appropriate Moogie cover of Terry Dactyl & The Dinosaur's "Seaside Shuffle". As usual, I've tossed in a couple of interesting, contemporaneous extras: the instrumental edit of "Internet Curtains" (b-side of "It Fell Off The Back Of A Lorry" & employed throughout the current Lawrence Of Belgravia documentary), the promo-only "Glitter All Over Again" (recorded with
The Glitter Band
- Lawrence must've been in Glam Rock Heaven!), & the unreleased "Lorra Laughs Cilla". The latter is taken from the suppressed Denim Take Over tapes, but has since been rehashed as "At The DDU" for Go-Kart Mozart's
Tearing Up The Album Charts
LP. It took me a l-o-n-g time, but I warmed to the gloriously absurd Go-Kart Mozart ("
the world's first b-side band
")
eventually
, despite Lawrence's reckless attempts to sabotage the affecting pathos of his lyrics with teeth-grindingly garish & contradictory "novelty rock" accompaniment - "
He made The Smurfs sounds like The Blue Nile
", as the NME once put it. In case you haven't been taking notes, almost all of Denim Take Over has been plundered for the Tearing Up The Charts & the imminent On The Hotdog Streets albums, albeit with a careful few lyrical amendments ("Denim Take Over" becomes "Lawrence Takes Over", "City Of The Dead" becomes "Mickie Made The Most, etc). Lawrence's songwriting remains stunningly poignant
on occasion
, bleakly hilarious (or
downright barmy
) on others, further proof that he didn't senselessly scupper his muse after
Back In Denim
, it was merely downsizing & self-medicating. That said... I'll always prefer The Splendour Of Fear to Denim On Ice, OK?