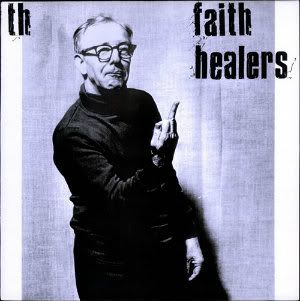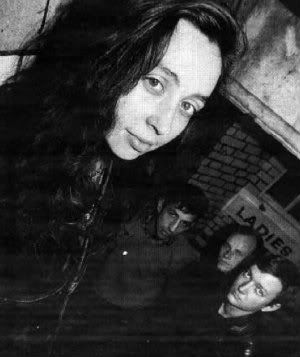 Also-rans, I suppose... but
Th' Faith Healers
put out some cracking records in their time - churning, dog-eared post-shoegaze aggro-indie that, along with Loop & Stereolab, anticipated the current, ongoing vogue for Krautrock-indebted
kosmiche
chug by several years. TFH grappled with
Soundtracks
' "Mother Sky" as far back as 1992 - pre-dating Julian Cope's benchmark
Krautrocksampler
tome - not bad for a bunch of crumpled itinerants in baggy jumble sale jumpers, eh? Loop, of course, covered Can's magnum opus even earlier, on 1988's Black Sun EP - though their attempt is. characteristically, a far more academic affair, a sleek 2nd hand DeLorean compared to TFH's junkyard Vauxhall Viva. That said, though the former is an obsessively detailed
recreation of the original
, TFH's discordant, breakneck
reinterpretation
is much more fun.
Practitioners of the sadly forgotten Camden Lurch, & regulars at The White Horse's legendarily rowdy
Sausage Machine
club night, Th' Faith Healers ever-changing line-up revolved around singing guitarist Tom Cullinan (who'd go on to form Quickspace Supersport following TFH's demise) &, scruffy queen of catharsis, vocalist Roxanne Stephen. Initially signed to London's Too Pure label, along with the aforementioned 'Lab & an emerging P.J. Harvey, all 3 bands - in an unprecedented instance of American good faith in the English independent scene - would eventually acquire major label deals in the U.S. (Polly with Island, the other 2 with Elektra). Incidentally, it's a little known fact that Too Pure almost didn't release Polly's auspicious debut,
Dry
- faced with a crippling cash flow crisis, the label turned to 4AD's Ivo Watts-Russell, who stepped in & bailed them out at the last minute. When Too Pure ceased general trading in 2008, downsizing into a monthly subscription-only
singles club
, their roster was quietly assimilated into 4AD's.
The Pop Song 12", Th' Faith Healers unpolished 1990 debut, has always been my favourite of their many records, though none of them are clunkers (the band having had the common decency to split before things got predictable). In a stroke of non-fiscal lo-fi genius, they promoted the EP's release with a bespoke
beermat
. Beat that, hipsters.