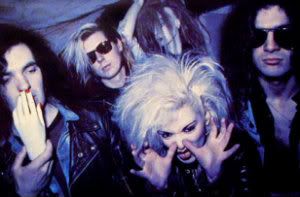 I saw The Bomb Party with alarming regularity back in the late '80s, often at Nottingham's semi-mythic
Garage club
- partly because, despite my
tender age
, I was already a vehement fan of scuzzy post-Stooges burlesque, but also (I suspect) because promoters here saw them as a "cheap date", due to their residing a mere 30 minutes away in neighbouring Leicester.
Absurd from the outset, The Bomb Party were always a highly amusing proposition, witty & self-parodic despite playing it entirely straight for the duration of their off-radar
career in rock
. Unperturbed, & possibly even exhilarated, by their shortage of obvious talent, their thunderous outbursts stood head, shoulders & stovepipe hat above anything else the dire
"Grebo"
scene - with which they were unfairly bracketed - threw up ("
Threw up
" being a rather fitting metaphor, of course). Crazyhead? Gaye Bykers On Acid?
Gimme a break
... Naming themselves after
a little known Graham Greene novel
, they debuted in 1985 with the gruff' 'n' ready Ray Gun EP, a 4-song 12" on Yorkshire's prolific Abstract Sounds (home also to The Three Johns, Janitors & the nascent New Model Army) - a minor masterpiece of licentious, tongue-in-cheek "gothabilly". John Peel pounced on the opening "Harry Was A Babysitter", & I fondly (if rather faintly) recall self-consciously tapping a winklepickered foot to it at any number of local "alternative" clubs, ensconced beneath the customary nest of jet black, violently backcombed hair. Zeitgeist, baby...
The band split in 1990, & God knows what became of them thereafter. Bleached bombshell bassist Sarah Corina joined (& still plays with) The Mekons, & has latterly moved into production (she recorded & engineered The Monochrome Set's current
Platinum Coils
LP), but the remaining members have all disappeared, even vocalist Andy "Jesus" Mosquera. It's slightly depressing to think of them, 25 years hence, as sober 50 year olds with careers, mortgages & families - if, of course, that's how things turned out? If your neighbourhood butcher, tobacconist or, indeed, drug dealer is an ex-member of this illustrious leather-clad combo, perhaps you could let me know?