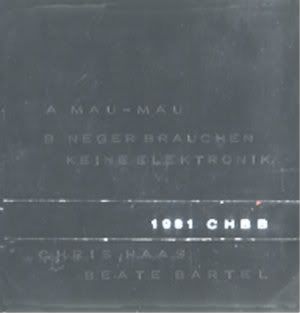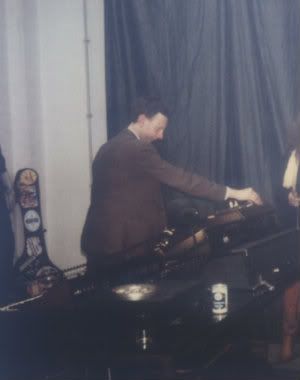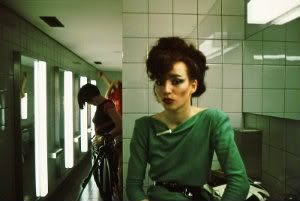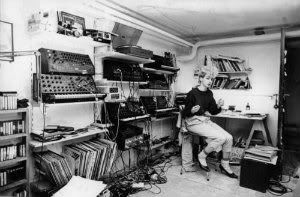 CHBB was Chrislo Haas & Beate Bartel, 2 cornerstones of the original Neue Deutsch Welle. Chrislo's reputation was/is built on his pivotal role in Düsseldorf titans D.A.F.'s terrifying Mute-era recordings. Their uncompromising wall of discordant punk-informed proto-E.B.M. can be heard pummeling an unsuspecting London audience into submission on side 2 of their 1980
meisterwerk
,
Die Kleinen Und Die Bösen
, recorded as support to Wire's polarising February '80 Electric Ballroom show (itself partially released on
Document & Eyewitness
). Beate, meanwhile, was a founder member of both Einstürzende Neubauten & the regrettably short lived Mania D (who, following her departure, evolved into the awe-inspiring
Malaria!
).
In the 3 decades since their original release, CHBB's recordings have justifiably attained near Holy Grail status, not only within the Cold Wave scene but to anybody with a serious interest in 70s/80s post-punk
elektronische musik
. Issued as 4 double-sided c-10 cassettes, each packaged with a paucity of information & distributed in a minuscule edition of 50 copies apiece, they're sufficiently sought after nowadays that somebody on the
Minimal Wave
forum recently promised $1000 to anyone who could provide them with a complete set.
Slightly
more realistically, a copy of the
doppelspaltplatten
I've sourced here - actually a 1998 bootleg - is currently on sale on Discogs for £250+! Fortunately, the music thereon still sounds
absolutely
incredible - a murky, nightmarish vista of urgent sequenced rhythms, distant disembodied voices, & rasping peals of sax, designed for the darkest of dance floors - & it hasn't dated in the slightest. Listening to them as I write, the CHBB cassettes sound like they might've been recorded, in a dingy Berlin basement studio, an hour ago. So, naturally, it baffles me as to why hitherto reliable critics are
still
queueing up to heap praise upon Factory Floor - whose superficial "
metronomic synth-noir
" (© The Guardian) offers little more than flagrant
homage
to the visionary work of Haas, Bartel & their peers - when pioneering outfits like CHBB were doing
exactly
the same thing, on scavenged &/or circuit bent equipment, & to far more startling ends, THIRTY YEARS AGO. Plans to remaster & reissue these (
yes
) seminal recordings were announced as far back as 2007, but have seemingly come to nothing.
Frustrating
.
Immediately after the CHBB tapes were released, the duo recruited French vocalist Krishna Goineau, renamed themselves Liaisons Dangereuses & decamped to
Conny Plank
's Köln studio to record their benchmark eponymous album, whose
"Los Ninos Del Parque"
has long been cited as a crucial influence by prominent Chicago & Detroit DJs alike. Briefly touted as another "
next big thing
" by the British & German music press, Liaisons Dangereuses only operated for a year or so, parting company in 1982 following a poorly attended U.K. tour (their July '82 performance at The Hacienda was issued as a now impossibly scarce
Ikon video cassette
), & leaving behind one final post-album recording, the so-so "Dancibar", on the NME's
Mighty Reel
compilation (available by mail order only).
Following the trio's premature dissolution, Chrislo slipped away into long-term hermitude, experimenting with sequencers & tape loops, moonlighting with Crime & The City Solution, & producing a handful of white knuckle techno 12"s for the legendary Berlin label, Tresor. Sadly, he died in 2004. Beate, meanwhile, formed the experimental pop ensemble
Matador
with Malaria!'s Gudrun Gut, & Manon Duursma, & has also collaborated with The Bad Seeds' drummer Thomas Wylder (previously of Die Haut).
n.b. More seminal Chrislo Haas experiments
here
.