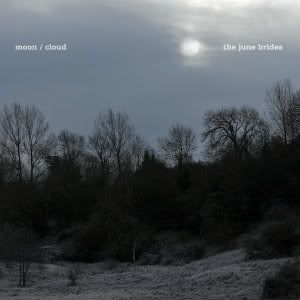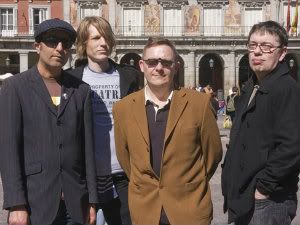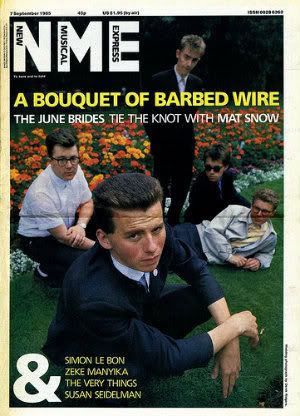 Back in the mid-80s, when our paths first crossed, The June Brides already seemed peculiarly middle aged - certainly in comparison to the frenetic snakebite-fuelled angular-isms of Big Flame, A Witness, Bogshed & the other bands I was obsessed with at the time - & their predilection for Help The Aged attire & Angry Young Man hairdos suggested a particular type of small-town post-Smiths emotional decorum that I didn't have much use for back then. From my "born & bred" Nottingham perspective, The Brides' ramshackle sound & appearance brought to mind
Alan Sillitoe
's writing, & of the intelligent & aspirational working class youth of
Arthur Seaton
's ilk, growing up on the cusp of the 1960s, frustrated by the suffocating conventions of post-war 1950s Britain, quietly rebellious, & desperate to outreach the leaden experiences of their parents' drab ration book lives. A couple of friends owned The Brides'
There Are Eight Million Stories...
mini-LP, but it's affable provincial-isms, typified by the scratchy sleeve illustration, made only a marginal impact on me at the time. Money was inevitably tight &, personally, I was only really familiar with them c/o their 1st rate
Peel session
(which, like just about every other band's of the period, I obsessively taped & archived) &,
somewhat
ironically, Big Flame's jagged molestation of "Every Conversation", the Bride's 2nd single & eventual signature song, also recorded for Peel's show. On reflection, Big Flame's cheerfully anarchic cover provided ample indication of how adroit a songwriter Phil Wilson actually was - despite the doubling of tempo & the guitar's resemblance to a swarm of tetchy wasps, it's simple, contagious melody shone through, undaunted by the Hulmerists' trebly racket. Phil's writing, already as accomplished as that of better known contemporaries such as Lloyd Cole or Paul Heaton, was - I think - rather ill-served by the band's ragged production values, & the augmented fidelity that a visit to the BBC's Maida Vale studios guaranteed hinted further at the capacious scope of his talent. With hindsight, it's surprising that The Brides weren't snapped up by one of the smaller majors (Go! Discs were interested at one point, I believe?) for some flirtatious DAY! TIME! AIR! PLAY! & a top 40 knee-trembler or 2. From the outset, the band admirably refused to play to type - knocking back an appearance on the NME's C-86 compilation for worry of being steered into a "shambling" cul-de-sac &, despite an unexpected NME front cover & a support slot on the Irish leg of The Smiths' Queen Is Dead tour (at Morrissey's behest), they quietly bowed out in 1986.
So, stumbling across them by chance last weekend at Derybshire's
compact & bijou
Indietracks
festival, amid a faintly apocalyptic landscape of abandoned signal boxes, land locked railway carriages, deconsecrated churches & pop-up owl sanctuaries (not unlike a scene from
The Bed Sitting Room
in fact!), it was
genuinely
heart warming to see how fondly regarded The Brides still are - by sanguine twee-pop fledglings & harrumphing old farts alike. Having had a couple of decades to really "get their shit together" - though the trumpet still sounded
gloriously
erratic, of course - their jubilant performance was surprisingly beefy at times* (*
insert your own jokes about encroaching middle aged spread here please
), though they're not
quite
the
"funk-rock oldies"
that certain other reviewers may have confusingly tagged them! Interestingly, the yearning
"A January Moon"
(from their just-released Between The Moon & The Clouds EP), was rolled out towards the climax of their set, alongside the inevitable "Every Conversation", & was a genuine highlight.
Ah yes
, the new June Brides single... It's simple, it's charming, & it reminds me of Sundays (though not
The
Sundays). The mature nature of their earlier work (exhaustively collated
here
) means that, 25 years on, The Brides don't have to stomp 'n' grunt 'round the studio in an unsightly attempt to recapture the
lean savagery of their disaffected youth
(© New Musical Express, probably) - they've grown gracefully into musical middle age &, better still, it
suits them
. Nowadays, they're the musical equivalent of a well-read Penguin paperback - dog-eared, slightly foxed. shelf-cocked, et al... but still transforming the mundane into something ineffably poetic.
Though I remain a fully paid-up acolyte of the humble 7", the extended 10-song CD edition of Between The Moon & The Clouds is definitely the one to own, comprising 2 versions of the string-laden title track, an acoustic rearrangement of "Every Conversation" (Phil trading lines with Laura Turley), & previously unreleased odds 'n' ends aplenty from Phil's extensive archive (including outtakes from his neglected solo LP,
God Bless Jim Kennedy
, & collaborations Nick Halliwell's shockingly underrated
The Granite Shore
). Though, on occasion, it's difficult to ascertain where Phil Wilson ends & The June Brides begin, one hopes that with virtually all of the Brides' original line-up back on board, the band might FINALLY get 'round to recording their
bona fide
full length debut at last?
n.b. You can hear extracts from The Moon & The Clouds EP over at
Occultation Records' site
(they released The Granite Shore's stuff as well). Next stop:
a couple of Manchester shows
with fellow Occultationists Factory Star & The Distractions, to promote the latter's first album in (
yikes!
) 30 years.