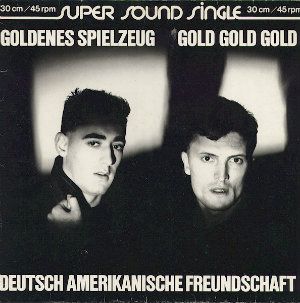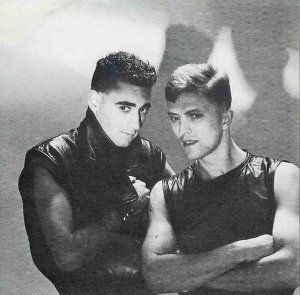 Still riding the crest of the Neue Deutsch Welle... I've just picked up a vintage copy of the NME, dated
14th November 1981
(my 15th birthday, as it happens) c/o eBay &, lo & behold, the single of the week (courtesy of a fervent Lynn Hanna -
whatever happened to her?
) is
Deutsch Amerikanische Freundschaft
's "Goldenes Spielzeug"/"El Que".
The first 45 to be extracted from their second, claustrophobically intense Virgin album,
Gold Und Liebe
("Sex Unter Wasser" was the other), it was released in both 7" & expanded 12" formats, as was customary back then. Neither of it's hard-to-find extended dancefloor mixes have ever been reissued, an unfortunate oversight on Virgin's part as D.A.F.'s pulsing sequencers & pummeling
schlagzeug
made commendable use of those crucial additional inches of alluring black vinyl. Needless to say, 30 years on, Conny Plank's stark, powerful production job still sounds
literally
awesome - an overused term admittedly, but entirely relevant in D.A.F.'s case.