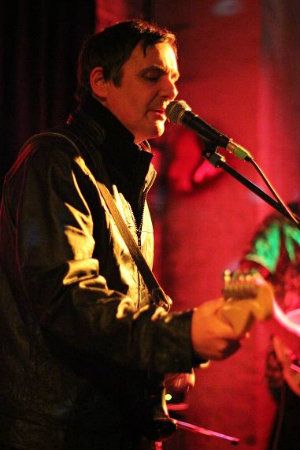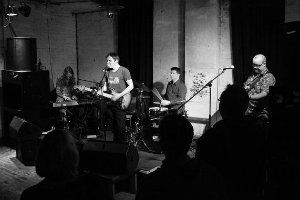 "When doubt has got his teeth in your bones - just moan that Salford moan - I greet the evening with a glad hand - 2 slate grey eyes - steeped in mystery - is it love that you feel, or is it fear? - remembering things that are making me cry - it's been a long, long time - longer than memory - run into the night - nothing left inside, feeling untied - don't laugh, don't cry - it's still a weird world."
I wasn't expecting to be writing about Factory Star again quite so soon. Most bands nowadays, in the wake of a "
year's best
" album of
Enter Castle Perilous
' singular quality, would slope off into contented obscurity for 2 years to piece together a worthy follow-up. Martin Bramah, however, chose to issue the shimmering
"Lucybel"
45 before the dust had chance to settle, & is back again with this new mini-L.P., a further half dozen songs. In total, that's not far short of an
entire
other album. To suggest he's on a roll would be putting it lightly, I think?
The Black Veil of the New Sacral
is split into 2 distinct halves. It's first act delivers a brusque call to arms, a rallying cry from a lurid vortex of snarling Orchidian Farfisa & quarry-deep Dragnet bass. Though lyrically minimal, the mood is unmistakably defiant, combative, &
UP
- optimistic,
almost -
in stark contrast to Enter Castle Perilous' disheveled parade of squalid Hogarthian miniatures. The highlight, the infectiously elated
"Olympian"
, careens by in a vociferous blur, wielding an organ hook of
such
brazen simplicity - & raw transfixed electricity - that it might've been dragged howling from the grimy bed of the Manchester ship canal. In all, 3 blistering psychedelic cellar anthems for a dowdy, dilated flock. Somewhere,
Lenny Kaye
falls off his bar stool, backwards, in slow motion...
It's a fleeting high,
of course
. The second side's expressionistic Northern noir flickers with dignified melancholy as the band retreat into an eclipsed gloaming. Like an anxious descent from neon flooded, rain soaked streets into a murky Brutalist underpass, "Strangely Lucid" - thankfully liberated from The Blue Orchid's impossible-to-find
Slum-Cavern-Jest!
E.P. - radiates a vivid narcoleptic incandescence, an eerie 4 a.m. calm redolent of silent, twilit terraces & hedgerows. Bramah also attempted it on
The Ballad of Twisted Heel
, his elusive 2008 solo album, so he's obviously a song he's particularly fond of it. The closing "Weird World", arguably the finest song here, previously appeared in embryonic form way back in 1993 on
The Sleeper
, The Blue Orchids' unreleased 2nd album (since unearthed by
Les Temp Modernes
). It's a proud, burned out hymn to the dark horses & the destitute - the losers & the lost - heartsick soul music for the has-beens & also-rans. That said, having put his worm-riddled character studies to one side, Bramah seems to be addressing
himself
throughout this latest brace of songs. The withering sarcasm has subsided, supplanted by a palpable sense of weary regret, but also an acceptance that life - however ugly & unpleasant - nevertheless remains a liminal, fantastical mystery
.
The Black Veil of the New Sacral offers a rare cause for celebration. And Factory Star
endure
. EPIC. Get it
here
.