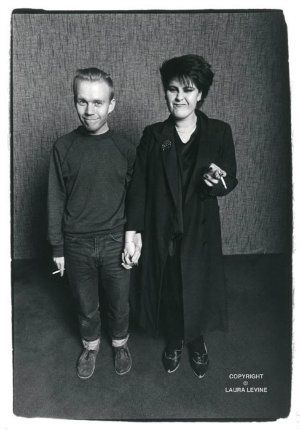 Back in 1982, within the space of a scant 3 months, Vince Clarke & Alison Moyet's Yazoo debuted on
Top of the Pops
(in April, with the perennial "Only You"). appeared on the covers of the country's 2 most influential music magazines (
Smash Hits
in May & the
New Musical Express
in July), recorded the requisite John Peel session (June), & released a classic inaugural album (the timeless
Upstairs At Eric's
). They were, of course, a peculiar duo from the outset, their atypical juxtaposition of blues & soul-inspired songwriting with cutting edge synth technology appealing to pop-happy chart kids & jaded post-punkers alike (& my mum was a big fan too), culminating in phenomenal chart success. It's easy to forget, however, that Yazoo's
Basildon
-based inception, meteoric rise to international fame, & fraught break-up (on the eve of their 2nd album's release) all transpired within little more than 18 months: "
One minute we were recording a demo on a 4-track, the next we were on Top of the Pops. It all happened so quickly, I don't think either of us had a chance to enjoy it
" (Alison Moyet).
Their July 1982 Peel appearance was, by my estimation, one of the very first sessions that I stayed up to tape (& on a school night too!). A stripped back 4-song preview of the imminent Upstairs At Eric's album, debate continues to rage as to whether these radio versions are superior to the officially released ones or not. Personally, I'd profer that,
yes
, they're certainly
quite
different & leave it at that. Curiously, all trace of Yazoo's set has been wiped from the BBC's usually reliable Keeping It Peel database. Odder yet, EMI also overlooked it when compiling 2008's otherwise complete retrospective
In My Room
box set, despite the inclusion of an entire DVD's worth of period television appearances for the Beeb, so perhaps Alf & Vince would prefer it to remain tucked away in their archive?
It's long term unavailability means that all 4 songs have been sourced from a 30 year old, (& rather fragile, by the sounds of it)
Scotch c90
, so apologies if it sounds slightly shaky in places, or if the
authentic 1980s
Medium Wave interference is a little intrusive. Sadly, until
Mute
issue it as a deluxe 12" (
hint
) this is as good as it gets.