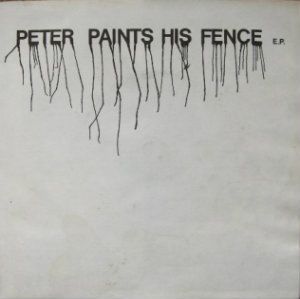 I was in London earlier this month, primarily to see
Mark Stewart
perform live, but also to take a look at The Hayward Gallery's Someday All The Adults Will Die! exhibition.
Comprising of just 2 small rooms & - frankly - a corridor, it's mish-mash of punk, proto-punk & post-punk ephemera was nonetheless rather eye-opening - if only because, while perusing it's fastidiously annotated exhibits, the sobering realisation dawned on me that records & fanzines I revered as a gawky juve are now considered museum worthy, & have been preserved under glass accordingly. Grim news indeed!
Co-curated by
Johan Kugelberg
&
Jon Savage
, & sourced from their own private collections, Someday... presents an enjoyably lopsided selection of tenuously related messthetic artefacts, reflecting the energetic, scattershot aesthetic of an era that, by it's very nature, remains virtually impossible to classify. It's certainly the first time I've seen links traced between
Jamie Reid
's iconic Sex Pistols Situationalia, The Contortions' funk-informed No Wave skronk, & Cabaret Voltaire's formative Dada-esque experiments, for example. Though I'm still not convinced that an authentic connection necessarily exists, it's the dots stenciled
betwixt
those oft referenced "pivotal relics" that prove most entertaining - affably anarchic cut & paste handbills & cottage industry 7" one-shots by ludicrously named no-hoper ensembles, emerging from leafy backwaters & soot-blackened inner city fallout shelters alike, for whom even Letraset often appears to have been a prohibitive expense.
One of these records, The Instant Automatons' Peter Paints His Fence E.P., stood out by virtue of it's artlessly artistic sleeve - a refreshing appropriation of white space amidst the faded photocopied newsprint & splenetic felt tip scrawl. Self-released in 1980 on their own Deleted Records imprint, it was their first (& penultimate!) appearance on vinyl, following a series of home made cassette-only collections. In Mark Automaton's own words: "Take a lyricist with his head in the clouds & a bizarrely eclectic range of influences. Add a techie with an overactive soldering iron & a copy of Practical Electronics. Stir in a junk-store guitar, a bass made from floorboards, a D.I.Y. drum machine kit, & a cheap synthesiser. Filter through an echo machine, & a range of sub-standard recording equipment. Leave to simmer in a North Lincolnshire farmhouse for 2½ years. Throw in a well-seasoned rock 'n' roller with a Mick Ronson fixation & a nice line in crunchy guitar licks, & add a dash of saxophone. Bring to the boil & serve up on assorted vinyl platters." Alternatively, imagine The (early) Mekons without the Marxist art school posturing. If Daniel Treacy had been into Faust rather than The Creation, The Television Personalities might've sounded something like this.
In the egalitarian spirit of that not-quite-forgotten era, The Instant Automatons have made much of their manifold
back catalogue available online
for nowt. Their thoughts on becoming bona fide objet d'art are thus far unrecorded, however.
● When the pubs close