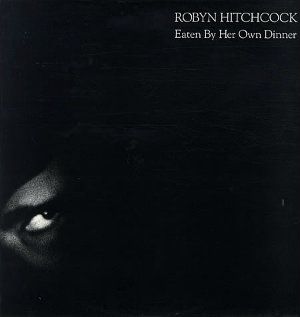 Slithering out of a mephitic crevice betwixt the marvelous Black Snake Diamond Röle (his solo debut following The Soft Boys' dissolution) & the dispiriting Groovy Decay (which he's since disowned), Mr. Hitchcock's stop-gap Eaten By Her Own Dinner E.P. heaved up three bristling hairballs of eccentric potting shed
kerrang
that transitorily harked back to the jagged psychedelic squall of 1979's unhinged A Can of Bees.
According to Robyn's type-written "technical notes", the E.P. represented "
a random selection of songs from various sessions over the past year. "Eaten By Her Own Dinner" was recorded in November '81 & represents my most recent attempt to work in a recording studio - my ideal sound would be on a cassette machine in Green Park underground. "Listening to the Higsons" was taped on a porta-studio in a barn in Surrey, not far from where Dennis Healey lives, on a full moon. Your stereo may need a new needle but the vocal sound is intentional. At the beginning of the song I play a wok (Chinese cooking utensil) ⅓ full of water, tipped through an angle of 40° to vary the pitching. Using my left forearm to cradle it against my my chest, I struck it repeatedly with a wooden spoon. "Dr. Sticky" was spontaneously recorded at Smithsound & hasn't been tampered with before or since. The song is not a dig at anybody; it is a celebration of fact, much like the Falklands victory parades
."
The EP's title track was recorded at Alaska Studios, beside Waterloo Bridge, with stopgap backing band Motor Boys Motor - supplemented by ex-Soft Boy (& future Egyptian) Andy Metcalfe on accordion. Motor Boys Motor - whose guitarist, "
boggy toasting
" Bill Carter, subsequently founded The Screaming Blue Messiahs - would go on to share "
a yellow van
" with Robyn & his band on a chaotic tour of Norway the following summer. June '82's darkly comic "Listening to The Higsons" is, on some days (usually Wednesdays), one of my favourite Hitchcock songs
ever,
though it's admittedly far from Robyn's finest moment. While most rational folk would consider Robyn's immortalising them in song to be no mean accolade, The Higsons (aka Norwich's pound-shop Talking Heads) allegedly weren't too impressed with it - which is as good a reason as any for not buying any of those dire zombies-for-kids books that Charlie "Switch" Higson has been churning out for Puffin lately, ain't it? "Dr. Sticky" was recorded on a beggarly Revox in December '81 & has always sounded as if it might collapse in on itself at any given second, though such foolhardy spontaneity has always been the measure of an entertaining b-side as far as I'm concerned! Robyn obviously remains rather fond of this one as he's revisited it on several occasions since. Both b-side tracks remind me of The Fall, circa Room To Live (Undilutable Slang Truth), which was released only a couple of months earlier, curiously enough.
Originally issued as a Midnight Music 7" in late 1982, Eaten By His Own Dinner was repackaged - again on Midnight Music - on 12" in 1986, with the original b-sides replaced by several new surreal oddities, notably the highly amusing Mescalin whimsy of "Happy the Golden Prince", & the eerily melancholy "The Abandoned Brain". Though most of these later additions are still available (on the Yep Roc editions of Robyn's early '80s albums), all 3 songs from the original 7" edition are currently out of print, unless you can find a copy of the long deleted CD edition of the Invisible Hitchcock compilation.
Hence...
● I prefer East Grinstead