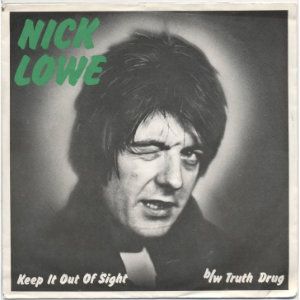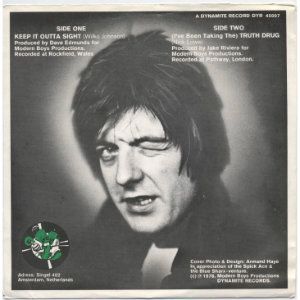 "
I think of myself as the anti-James Brown
," Nick Lowe once declared, "
I'm the least hard-working man in show business
." Bollocks, frankly, but he's entitled to his opinion I suppose...
Nick's first solo 7", released in 1976 on Holland's Dynamite label, only appeared once his intentionally awful Disco Brothers single achieved it's intended purpose & flopped, securing his release from an unwanted United Artists contract. Mind you, the resounding failure of those
Tartan Horde
45s probably helped him on his way as well? A timely reflection of London's emerging, booze-steeped pub rock scene, "Keep It Out of Sight" - a serviceable cover of a sleazy Wilko Johnson song (you'll find the superior original on Dr. Feelgood's topnotch Down By the Jetty L.P.) - was produced by Dave Edmunds, who'd shortly hook up with Nick in Rockpile. "(I've Been Taking the) Truth Drug" - for me, the better song of the two - was recorded by Stiff svengali Jake Riviera, & rather cheaply by the sound of it! A publishers' demo perhaps, providing a convenient testing of commercial waters, re: the imminent "So It Goes" single? Tightened up, it would've made a fitting addition to Nick's eventual debut elpee (both songs were overlooked in the end). Ultimately, though hardly the most auspicious of entrées, it's definitely worth a listen if you're a fan of Nick's gilt-edged Jesus of Cool / Labour of Lust era.
With hindsight, the choice of a cover version as his inaugural release seems curiously uncharacteristic as, by his own admission, Nick makes much of his living by deliberately "foregrounding" his own compositions nowadays: "
I like other artists to think: 'That's a good song, I could do it better than him' That's another reason I 'undercook' my songs - why I present them like a demo. They think: "Oh, he's thrown that one away.' Then suddenly,
" (mimes fishing) "
the rod bends, the line goes taut... & you've got one! Nice work if you can get it!
" Wise words. After all, he made an "
astonishing
" amount of cash when Curtis Stigers covered one of his songs for The Bodyguard soundtrack - it went on to sell a staggering
15 million
copies...
Both sides of the Dynamite 7" were included on Demon's long unavailable Wilderness Years compilation in 1991. The original 45 was also widely bootlegged in America in the late '70s but, as these copies have white labels, no picture sleeve, & markedly inferior sound, they're not too difficult to spot.
● For Modern Boys