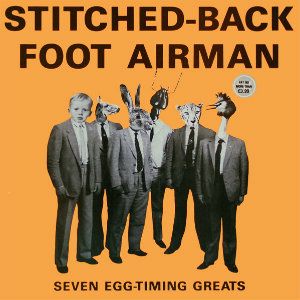 Proving that there's nothing like a eye-catching name to commandeer people's attention, I heard of (& read about) Stitched-Back Foot Airman several years before I found any of their records. Despite their polarising monicker (best or worst ever,
you decide
), there's perilously close to nowt about them anywhere online - their disarmingly uninformative
Myspace page
aside. All I've been able to surmise is that they were formed in Southampton in the early 1980s by Simon Vincent, & his younger brother Robin, with Mike Farmer & artist/film maker Crimp Beringer. I suspect they may have had connections with another Southampton outfit, kit-synth debasers Games To Avoid, but that could just as easily be bewildered wishful thinking on my part? Following a move to London, Stitched-Back Foot Airman began releasing records on their own Very Mouth label, including the skewed 9-song mini-album debut I'm posting here, & the
almost
-as-marvellous Wouldn't You Like To Know 7". Somewhat tenuously, the sleeve of Seven Egg Timing Greats has always reminded me of The Residents' debut - "Ringo Starfish", et al.
Presently, they signed to Marc Riley's In Tape label for a couple of 45s, before sauntering off into post-C86 abeyance, leaving only a handful of
very odd self-made videos
in their wake. Prime contenders for the "Where are they now (
& who were they anyway
)?" dossier.
Apologies for the uncharacteristic paucity of anything tangible - as always, any further info would be more than welcome.
● Eat Nine
n.b. New link (by request) - if the band or current copyright holder have any issues regarding my sharing this record
please
leave a message below & I'm delete it immediately (ta).