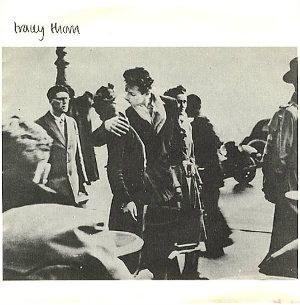 Tracey's first solo 45, released in January 1983, was a re-recorded version of one of the highlights of her debut L.P., 1982's thoughtful A Distant Shore (total production costs = a piffling £138 allegedly!). Appearing shortly before her departure from the much-loved Marine Girls, both records were distributed by
Cherry Red
, & were raved about in - of all places - Smash Hits (who, in all fairness, had been enthusiastic supporters of the Marine Girls as well). By the time "Plain Sailing" emerged, Tracey had already begun collaborating with boyfriend Ben Watt as Everything But The Girl &, consequently, she wouldn't issue another single under her own name for a quarter of a century (
"It's All True"
, in 2007 - an exercise in urbane '80s throwback electro-pop, co-written with Metro Area's
Darshan Jesrani
, & produced by
Ewan Pearson
-
blimey!
).
The b-side - otherwise unavailable as far as I'm aware - is a sweet, reflective cover of ex-labelmates The Monochrome Set's "Goodbye Joe", from their Strange Boutique album. And the choice of cover photograph - Robert Doisneau's emotive
Kiss by the Hotel de Ville
(1950) - is the icing on the cake.
● Ballads for Estate Agents