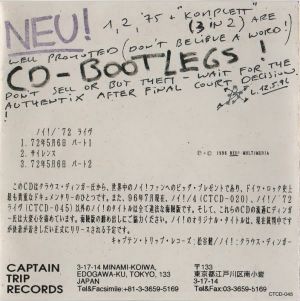 Back in the early '90s, following the publication of Julian Cope's trailblazing (& since withdrawn)
Krautrocksampler
overview, impossibly rare progressive rock albums of German origin began turning up in discerning record shops around the U.K. (& throughout the rest of Europe, presumably), & at just-about-affordable prices. Manufactured by the previously unknown Germanofon label, each reissued L.P. was a near-flawless replica of it's original '70s counterpart - with elaborate gatefold sleeves, enormous foldout poster inserts, & record company labels all intact. Sound quality was generally very good too, though on closer inspection it appeared that most titles had been mastered from slightly crackly vintage vinyl as opposed to the actual master tapes. Unfortunately, it quickly transpired that Germanofon was actually a very prolific & well-organised bootleg label, allegedly operating out of Luxembourg, who had somehow managed to pass off their illicit wares onto mainstream distributors with remarkable success - "
no questions asked
" vs. supply & demand, the same old story, I expect?
Kraftwerk's initial trio of
still
unavailable long-players aside, it was Neu!'s back catalogue that was most eagerly welcomed. Out-of-print since the late 1970s, due partially to a protracted loss of contact between founder duo Klaus Dinger & Michael Rother, the widespread availability of the Germanafon editions meant that many thousands of potential sales were forfeited before an official reissue programme could be launched. To make matters worse, Dinger - "
in an act of despair
" according to Rother - authorised the release of the below-par
Neu! 4
(in actuality a rather mediocre session of October '85 vintage) &
Neu! '72 Live In Düsseldorf
via renown Japanese psychedelic label,
Captain Trip
. Rother, understandably upset at his consent not being sought, effectively delayed the official C.D. reissue of the original Neu! trilogy for a further half-decade - though when they
did
eventually appear, c/o
Grönland
/ Astralwerks in 2001, I'm sure I'm not the only Neu! fan who bought the lot all over again. One condition of the licensing agreement was that both
Neu! 4
&
'72 Live
be deleted forthwith &, though the former has since been remixed (arguably to it's detriment) by Rother following Dinger's death, the latter has remained tantilisingly out of reach.
Truthfully, '72 Live wasn't actually a live album at all. It was, instead, a mid-fi recording of an hour or so's worth of rehearsals for a handful of imminent European live dates, or as Dinger's sleeve note clarified: "From the K.D. historic tapes collection this is Neu! '72 Live! in Düsseldorf 6 May at congregation hall of St. Maria Unter dem Kreuz (tanx) in Düsseldorf - Unterrath. As non-public test / self-audition for a series of 6/7 concerts later in '72". Heavily edited extracts from all 3 tracks were remastered & remixed by Rother for inclusion in Grönland's limited edition deluxe vinyl box-set in 2005. Though the sound thereon was a noticeable improvement on the Dictaphone-quality Captain Trip disc, the loss of so much fascinating incidental material - brutal tape splices, band discussions & disagreements, the shakily improvised performances falling apart & back together again, etc - meant that the unadulterated Dinger-advocated bootleg has since attained significant historical importance.