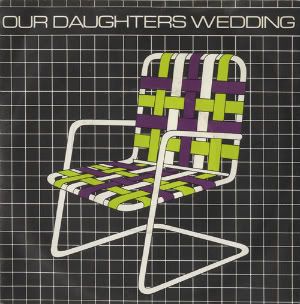 Simply one of my favourite 7"s ever, purchased with 50p of own, hard won pocket money from Woolworth's' ex-chart bargain bin. Chances are you may already be familiar with it, though perhaps you've not heard it for a - gasp! - quarter of a century, or more? If not... better late than never, eh?
Originally from San Francisco, Our Daughters Wedding -
no apostrophe -
began making headway as a prototypical synth trio in New York in 1979, playing New York's legendary Hurrahs club alongside James Chance, Mi-Sex & anybody else they could scrounge a support slot with. "Lawnchairs" was their second single &, like the earlier "Nightlife" 7", was initially released on their own Design label in 1980. An instant U.S. college radio hit, & championed in the U.K. by both Smash Hits &
Melody Maker
, it was quickly picked up by EMI who commissioned a complete overhaul & re-released it themselves the following Summer. Though it only made #49 on the British charts, it became a massive dancefloor hit both here & in the States,
eventually
breaking into the Billboard run down & racking up a million+ sales along the way. It's not difficult to see why - loaded with hooks while retaining an aloof, experimental edge, "Lawnchairs" appealed to both the acutely commercial & burgeoning "alternative" music scenes of the period, without debasing it's self-reliant D.I.Y. origins. Crucially, the b-side ("Airline") was almost as good, & both songs remain high water marks in synthpop's convoluted lineage. By virtue of EMI's optimistic pressing run - their label was evidently anticipating a far higher chart placing - affordable, original copies are still relatively easy to track down. Incidentally, ODW were also early advocates of Casio's groundbreaking
VL-1
keyboard, which endeared them to many enthusiastic amateur synth boffins (me included) at the time. Many a lonely hour was spent secreted in my pre-teen bedroom, tentatively tapping out Yazoo melodies thereupon with a single, hesitant finger.
Sadly, due either to pressure from their label or a paucity of interesting new ideas, ODW ran out of steam pretty quickly. The subsequent
Digital Cowboy
EP contained 4 decent enough synth-centric rock songs (5 overseas), but 1982's
Moving Windows
album was a patchy, compromised affair & EMI dropped them shortly afterwards. Their final release, the U.S.-only "Take Me"/"Machines" 12", didn't appear for another 2 years, by which time they'd come full circle & were back on Design.
The only ODW retrospective to date, 2006's exhaustive Nightlife CD, is already highly sought after, with an exorbitant price tag to match. Early copies were accompanied by an original Design pressing of the "Lawnchairs" 45, returned to them by EMI after their 1981 reissue was released, &"given to you from the band as a way to say thanks for the continued interest in the band". It's that original, superior version I'm posting here.
● LINK REMOVED - Both sides of this single are now available c/o iTunes & Amazon Digital.

n.b. An earlier version of this post was published in June 2011.