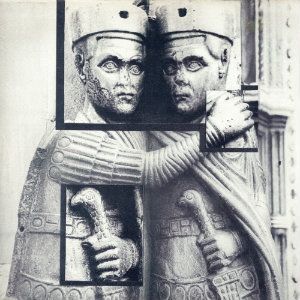 Taking their name from a severe, slicked-down haircut favoured by England's educated gentry (& later adopted by singer / dancer Josephine Baker), Eton Crop formed in 1979 as an Undertones-inspired pop-punk band in Nieuwkoop, Holland. Anglophiles from the outset, their lyrics freqeuntly referenced British culture (New Conservatives, Bob Monkhouse, Bell Fruit tokens, et al), & mined similar sonic territory to The Fall, The Mekons, & early Gang of Four.


1983's "Gay Boys on the Battle Field" 12", their third single, was the last (& best) of their initial, post-punk influenced releases. Issued c/o their own, short-lived Bigger Bank Balance label, it was produced by Jon Langford, a founding member of both The Three Johns & The Mekons. Returning the favour, The Mekons occasionally performed this e.p.'s "Roger Troudman" live - as can be heard on Hits & Corruption's "all killer, no filler" Skin & Bone cassette from 1985 (a crucial document of a near-forgotten musical era). Somewhat inevitably, I first heard "Gay Boys on the Battlefield" on John Peel's show, & wasn't entirely sure what to make of it if I'm honest - I was still immersed in New Order's elemental strum und drang back then, so Eton Crop's comparatively light-hearted (though, thematically, no less morose) anti-war chant sounded very odd indeed, & was certainly a bit of an eye (& ear) opener. In common with many primary bands of the "proto-Shambling" period, Eton Crop's mid-'80s back catalogue has never been reissued, so if you want to own this intriguing trio of songs you'll have to fork out for an original copy of the 12" (don't panic, it's still affordable - I picked a copy up for under a tenner a couple of years ago). Peel was evidently very fond of them as they recorded five sessions for him in all.
Immediately hereafter, having spotted a potentially lucrative niche, Eton Crop evolved into a very British-sounding indie-pop band, virtually a Les Trois Jeans homage act in fact - writing catchy guitar-driven songs of a similar persuasion, commissioning Jon Langford sleeve art, & even borrowing their legendary drum machine (as did the nascent Sisters of Mercy & March Violets, of course). They'd also record a terrific cover of The Nightingales' "Paraffin Brain" at this juncture (they missed a trick by not releasing it as a single, I reckon), & tirelessly toured the U.K. a staggering seven times. Later still, they'd change direction again, recording a possibly ill-advised cover version of The Human League's "Don't You Want Me" (yikes) before pursuing a chart-friendly, dance-inspired sound. Predictably, therefore, it's their earlier, left of centre sound I'm most fond of. It's a shame they didn't complete an L.P. prior to their transformation, it would've been a minor classic, I suspect?
Finally, the customary completist's plea: if anybody can help me out with copies of their debut Timmy Barker is a Coward 7" (1980), or any of their experimental cassette releases, please get in touch.