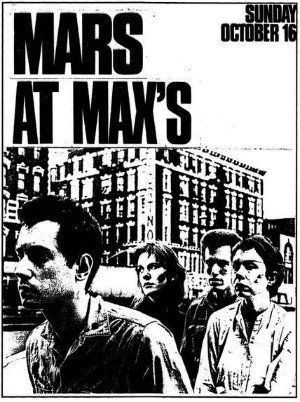 There has been a flurry of
archival live
Mars releases recently but, unless I'm mistaken, there's only minimal crossover with the material on Mars Live. Though it
does
utilise several of the same tapes that were sourced on Widowspeak's 1986 Mars '78 compilation, Mars Live fortunately dispenses with J.G. Thirwell's troubling "
remastering
" thereof. Instead, this selection was "reprocessed by Mark C., Enric Les Palua, & Gat in Barcelona, January 1993". Released later that year on France's Les Disques du Soleil et L'Acier, Mars Live was patchily distributed from the outset, & has been unavailable for many years.
The original recordings were made, on standard cassette, between October 1977 & August 1978 at Max's Kansas City, CBGBs, & Irving Plaza. According to a brief sleeve note, Mars played around 25 shows during that period without ever leaving Manhattan, their final performance taking place at Max's in December 1978. For me, the highlight herein is, without a doubt, the climactic 13+ minute rendition of "N. N. End", featuring additional guest dissonance from No Wave / free jazz guitarist Rudolph Grey. It's a visceral, pummelling juggernaut of a "song", a brutal vortex of disjointed, shattered glass discord that
literally
sounds like it's deconstructing itself in real time.
Mars obsessives will doubtless already be aware of
Anióma
's triple cassette box-set of previously unissued Mars odds & ends, curated by Mark Cunningham himself. The first pressing sold out in a flash but I've been closely watching their website for news of a second.
● Fractions