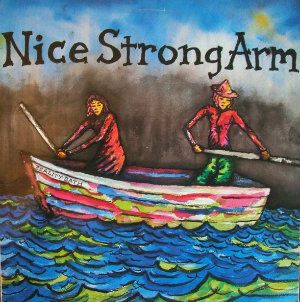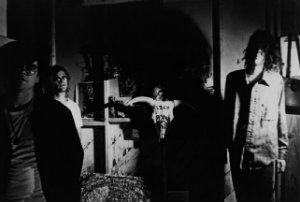 Nice Strong Arm's debut Reality Bath LP was one of my inaugural shares on this blog, originally posted
way
back in early 2009...
I can't remember how I originally acquired it, though the sleeve of my copy has a tell-tale, brutal corner nick, suggesting it was a promo copy that Selectadisc had dumped in their already crammed second hand racks. Of course, the late '80s was a boom time for off-centre guitar music, & if a record was cheap, released by Homestead Records, & generally looked a bit odd, I'd more than likely risk a few quid on it, secure in the knowledge I could offload it the following week if my cream remained unclotted. Reality Bath ticked all 3 boxes.
26 years on, I still know virtually nothing about Nice String Arm, merely that they were a shadowy trio of Austin origin (thereby continuing Texas' steadfast psychedelic lineage - from The Elevators & The Red Krayola, via The Butthole Surfers, Scratch Acid, & The Jesus Lizard, to latter day psychotropic explorers like The Black Angels, & Charalambides), & that Reality Bath's eye-catching Allen Burris sleeve art seemed to be everywhere when it first appeared. Presumably still flush from Sonic Youth's early success, Long Island's prolific Homestead Records issued it alongside a seemingly non-stop sequence of Live Skull, Volcano Suns, Phantom Tollbooth, & Death of Samantha albums - quickly cementing the "Homestead sound" (hint: there wasn't one). Despite being granted acres of column inches & advertising space by the more reliable underground music mags of the era (Forced Exposure, Chemical Imbalance, Your Flesh, Option, et al), Reality Bath was lost in the vinyl melée & quickly achieved a forlorn bargain bin omnipotence. Tellingly, I've never met anybody else who owns a copy, so I assume, despite it's bottom dollar "remaindered" status, virtually no-one bought it at the time...


Though they'd release a further 2 albums, neither equaled the often downright peculiar Reality Bath for bent-minded, quasi-grunge hallucinogenica. It's finest moments still remind me of Helios Creed's earliest solo records - a bedraggled, patchouli-reeking, backwoods Hendrix figure, staggering out of a drug-warped American south in oil-stained bells & a tatty Guru Guru t-shirt. It's never been granted a CD issue either (a 2-fer with 1988's Mind Furnace would've made complete sense) so, like many outstanding Homestead records of the period, it sadly slipped off radar some time ago.