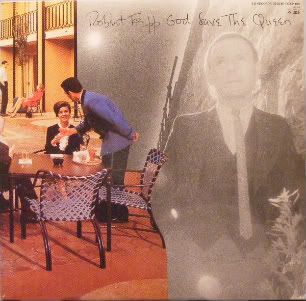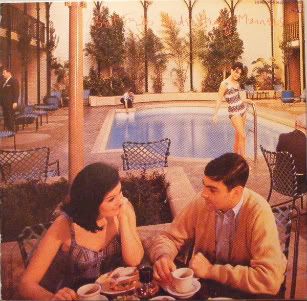 I originally posted these 2 hard-to-find Robert Fripp releases way back in June/July 2010. Both proved to be particularly popular selections, but were deleted when Megaupload unexpectedly bought the farm. I've had a few requests to re-up both records so, with all due respect to the distinguished Mr. Fripp, here they are again.
In the same way that 1979's Exposure LP relates explicitly to his work with Peter Gabriel (on his
2nd
,
massively
underrated, solo album) &
Daryl Hall
, so God Save The Queen / Under Heavy Manners correlates to Fripp's parallel, & wildly innovative, period of career defining experimentation with Bowie ("Heroes" / Scary Monsters & Super Creeps) & Talking Heads (Fear Of Music).
Released by EG in January 1980 - remarkably, just 6 months after Exposure - God Save The Queen is, as it's complete title implies, an album of 2 distinct halves. Instrumental throughout, excepting David Byrne's pseudonymous cameo (as Absalm El Habib) on "Under Heavy Manners", side 1 exclusively employs the spellbinding Frippertonics system as it's template, adapting it somewhat on side 2 for a process Fripp craftily labelled "discotronics", i.e. posthumously combining his treated guitar loops with a studio-based rhythm section. The bedrock material for the entire album was recorded live in concert in 1979, with Buster Jones & Paul Duskin (bass & drums respectively) adding their contributions later. Though he'd already established The League Of Gentlemen as a touring unit by this point, Fripp clearly intended the LP to be recognised as a solo project &, not wanting to suggest a thematic connection with Eno's collateral ambient work, the album's original title, Music For Sports, was substituted at the last minute.
Astonishingly, for an artist of Fripp's eminent stature, God Save The Queen / Under Heavy Manners has never been reissued (on CD or otherwise), so if you want to own it you'll need to scour eBay for an original copy.
Fripp's elegant version of "Silent Night" - "
Silent Night á la Frippertronics
" to give it it's full title - was given away, as a red 6" Eva-Tone Soundsheet (i.e. flexidisc), with issue #3 of Chicago-based arts journal Praxis in December 1979. Fripp's label, EG Records, also used it as an aural
Christmas card
that year - a savvy bit of self-promotion perhaps, but also a beautiful
gratis
demonstration of the Frippertronics system's haunting melodic qualities. Subsequently, it was included on King Crimson's Sex Sleep Eat Drink E.P., a 1995 odds & sods collection that has been out of print for several years. That's the source I've used here, so it's free of the invasive polyvinyl surface noise that might otherwise have tarnished it's fragile, shimmering ambience.

(By rights, I probably ought to have re-posted this one last month, oh well...)
n.b. Those readers requiring further, in-depth elaboration upon Fripps's methodologies, may wish to spend 10 minutes perusing this ever-so-slightly mind-boggling contemporaneous
interview
.
● A Small Mobile Independent Intelligent Unit
UPDATE:
These files have been deleted by Hotfile - presumably at Mr. Fripp's request - for a second time, so I suggest you head directly to Discogs & pick up an original copy of GSTQ on vinyl (the likelihood of it ever being officially reissued is looking increasingly slim).