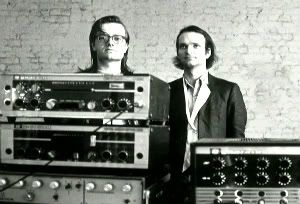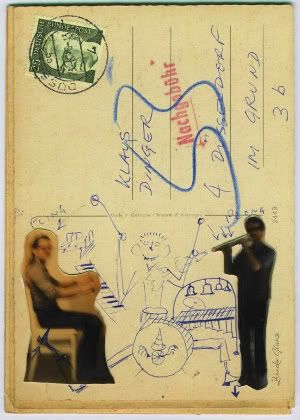 Kraftwerk's debut single, the
impossibly
scarce "Kohoutek - Kometenmelodie" (aka "Kohoutek- Comet Melody"), was released - though only very briefly - on Europe's regal Philips label in December 1973. Long unobtainable, it contained radically different, surprisingly tentative versions of 2 tracks that would reappear 12 months later, fully developed, on their landmark
Autobahn
album. As such, "Kohoutek" occupied an ambiguous musical Hinterland, with Hutter & Schneider, still operating as a hermetic duo, poised somewhere between the "failed" experiments of their first 3 Vertigo LPs &
Autobahn
's mighty leap towards accessibility. "Kohoutek" was Kraftwerk's first outright flirtation with
genuine
melody, quietly expanding on the
Ralf & Florian
LP's wistful chamber ensemble miniatures to concoct something one might've encountered on mid 1970s current affairs television. (
Nostalgic resonances, faintly recalled
.) Though almost 40 years old, it's esoteric ice cream van synths & primitive electronic percussion still sound utterly beguiling, pre-empting the pastoral electronic whimsy of Cluster's Sowiesoso & the like. The elementary drum machine was a
Maestro Rhythm King
apparently, the same model that Sly Stone used on There's A Riot Goin' On. The metronomic precision of The Man Machine was, needless to say, still some way off...
Judging by the quaint Cosmonautical sleeve design, it's safe to assume that the single was released to commemorate the appearance of comet C/1973 E1, which was first sighted in March 1973 by Czech astronomer
Lubos Kohoutek
. It was also observed by the crews of both Skylab & Soyuz 13, making it the first comet to be observed by manned spacecraft. Though hyped by the media as the "
comet of the century
", Kohoutek didn't perform as spectacularly as expected, hence it's subsequent relegation to astronomical obscurity (not before Sun Ra performed
a concert
in it's honour in December 1973, however). A "
long period
" comet, it's not expected to appear for another 75,000 years. Perhaps Ralf & Florian will have finally sanctioned the re-release of their Vertigo back catalogue by then?
n.b. The postcard I've reproduced above was sent by Hutter & Schneider to Neu!'s Klaus Dinger in 1973.