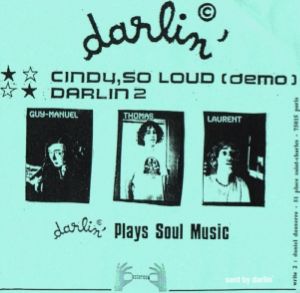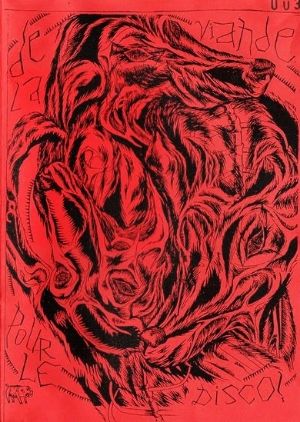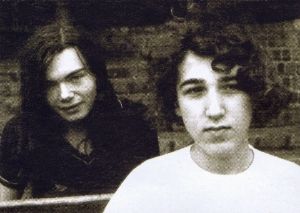 I'm as surprised as you are -
more so
, probably - that the announcement of an imminent new Daft Punk album (their first since 2005's underwhelming Human After All) should inspire a resumption of activity on I Love Total Destruction after such a protracted lay-off
. S
tranger things have transpired on-line, no doubt, but
really...
While the somewhat daunting previews of their forthcoming
Random Access Memories
LP suggest that it's likely to be a polarising, & gloriously overreaching, '70s-derived meringue of ostentatious easy listening
frommage
& magisterial Moroder-indebted synth throb (encompassing, unbelievably, The Muppet Show), the surrounding brouhaha did at least remind me to dig out Thomas Bangalter & Guy-Manuel de Homem-Christo's handful of pre-
Homework
noodlings with the short-lived & under-appreciated (not least by the ex-band members themselves) Darlin'.
Formed in Paris in 1992, Darlin' were a Beach Boys-inspired, guitar-wielding trio featuring Bangalter on bass, Homem-Christo on guitar, & "mystery" third member Laurent Brancowitz on drums. Brancowitz departed to form the riff-friendly Phoenix (whose own
new LP
has just entered the Billboard Top 200 at #4) when his disillusioned band mates began distractedly experimenting with samplers & loops. Without question, their most widely heard release is their 2-song contribution to Duophonic's
Shimmies In Super-8
sampler from 1993, a limited edition double 7" package that also featured Huggy Bear, the long-forgotten Colm, & label impresarios Stereolab themselves. Legendarily, a Melody Maker review of Shimmies... dismissed Darlin's side as "
a daft, punky thrash"
, thereby birthing a monster that would grow, eventually, to exert a profound musical influence over the entire, awestruck planet. Stereolab's track aside, none of the music on Shimmies... has ever been reissued, & an original copy will set you back £70+ nowadays.
Thomas Bangalter: "
When we were about 17 or 18, we made this tape which was a cover of a Beach Boys song. We just recorded it at home with guitars & a drum machine. No melody, just the chords. The band Stereolab were coming to Paris & we really liked them because they had these incredibly cool 7" singles, so we gave the tape to a girlfriend who then passed it on to Laetitia (Sadier) from the band. Stereolab put it on a compilation single they made
..."
Less well known, however, are the 2 untitled songs that crept out (posthumously, perhaps?) in 1995 on Banana Split's
De La Viande Pour Le Disco?
cassette compilation, which placed them alongside well-established denizens of the early '90s D.I.Y. tape underground such as Silver Jews, God Is My Co-Pilot, Cornershop, Paste, John Davis, Scaredy Cat, & I'm Being Good (&, oddly, Seefeel). Though one of Darlin's contributions hereon retread the fuzzy lo-fi template of their earlier Duophonic appearance, the other is (rather bravely, on reflection) an embryonic house track that appears to sample Bowie's "Starman" -
citation required
, naturally. Dismayed &/or perplexed (probably both), Banana Split's curator positioned the latter out of harm's way at the very end of side 1 so that the music ended prematurely as the tape ran out. If he/she has hung onto the original tape or CDR it was sourced from, I expect it'd be worth a fortune now. There's a copy of De La Viande Pour Le Disco? for sale on Discogs as I type - a steal at
£1,640!
Mon Dieu
, et al.
Thomas Bangalter: "
The rock'n'roll thing we did was pretty average, I think. It was so brief, maybe 6 months, 4 songs & 2 gigs, & that was it
".
● Lycée Carnot