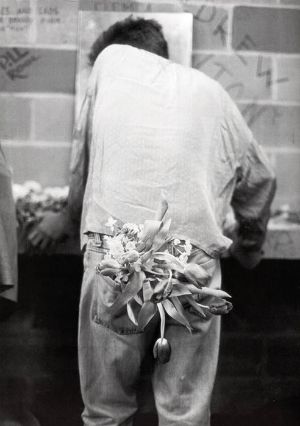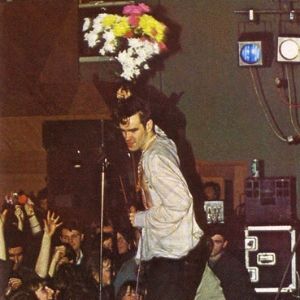 Not the very first gig I ever went to, but definitely one of the first half dozen...
Taped a week before their debut LP was released, The Smiths were surfing the crest of an extraordinary wave of adulation at this point - genuine affection & admiration too, not mere music press hype - & it remains the only show I've attended where I've witnessed mass delirium tantamount to early Beatlemania. What struck me on the night was that virtually the entire audience knew the words to all of the songs - despite their album not quite having reached the shops - due entirely, of course, to the widespread copying & circulation of their early demos &, crucially, their remarkable sequence of Rough Trade 45s & John Peel sessions. Though they also appeared on David "Kid" Jensen's show during this (r)evolutionary period, his mid-evening broadcasts were of inferior Medium Wave quality & consequently far less people listened to (or recorded) the handful of songs they played for him. Of course, most of the tracks they performed for the BBC were rounded up later that year for their prerequisite Hatful of Hollow compilation - considered by many (myself included) to be preferable to The Smiths' debut proper.

Improbable as it may now sound, it was still quite disconcerting to hear the phrase "Oh let me get my hands on your mammary glands" on the radio back then: "The singer is totally mad. On the first number, he hits students over the crust with dead daffodils & goes on to wave the things around in some mystical respect for the cover of Power, Corruption & Lies. He is, simply, the successor to previous Devoto. Most of his word-packed lyrics are about child-molesting, & more mature sexual experimentation. He hates women with a vengeance, but he is still The Intellectual." (Dave McCullough, Sounds)
My abiding memory, other than of the emotionally overwhelmed semi-conscious fans (male & female) who were laid out at the edge of the crowd to recover, is of Johnny Marr leaning down between songs to gave me a flower. Gulp. I wish I still had it.

Needless to say, it was something of an epiphanic, pivotal evening for me. This night has opened my eyes, you might say... but I'd rather you didn't.


● LINK REMOVED BY REQUEST, SORRY.