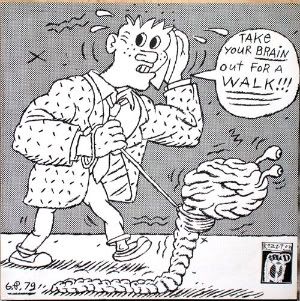 Tagmemics
were a short-lived, Edwin Pouncey-fronted ensemble that sprang from the earlier, semi-legendary
Art Attacks
following
their
split in 1978. The unquestionably brilliant "I Am A Dalek" 45 aside, The Art Attack's finest hour-
they'd be the first to admit I'm sure -
was headlining at
The Vortex
with a fledgling Squeeze as support. Sharing most of their predecessors' line-up - excepting drummer J.D. Haney who had defected to The Monochrome Set - Tagmemics only managed to spew up this largely forgotten 7" EP on Index Records before quietly imploding. The striking sleeve & insert were devised by
Gary Panter
, who was turning heads at the time with his eye-popping designs for The Residents & Frank Zappa.
Though Pouncey effectively disowned the EP in 1989 in a typically interminable Forced Exposure interview, I personally like it
at least
as much as The Art Attacks' stuff. Too smart to be pure punk rock, but too surly & snotty for the new wave crew, it ends up being unceremoniously dumped in the messthetics slop bucket by default - which is fine by me, I love that stuff. "Take Your Brain Out For a Walk", arguably the best song here, was allegedly covered by Devo during their early '80s pomp but I've yet to hear their version. Following Tagmemic's abrupt dissolution, Pouncey stomping off to carve out a career as a
demonically twisted illustrator
of some repute, only returning to music in the late '80s with fugacious wind-up merchants, The Kray Cherubs...
More from whom very shortly.