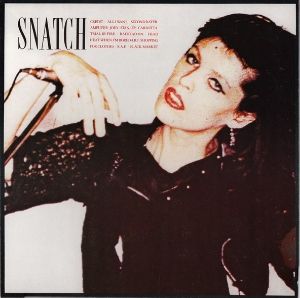 Snatch was never a "band" as such - & certainly not a
punk
band
, though it had many contemporaries & supporters who were active in that circle - but more likely a collaborative avant garde pact between ex-pat American founder-duo Judy Nylon & Patti Palladin, along with whoever else was on hand during it's sporadic existence.
Moving to London in the early '70s with the vague intention of breaking into the city's Glam-saturated music scene, Judy & Patti originally worked together under the name Cha-Cha before eventually settling on the sexually ambiguous (& far more disturbing)
Snatch.
Judy, of course, had already made something of a name for herself via her creative friendships with John Cale (that's her erotically-charged vocal on "The Man Who Couldn't Afford to Orgy") & Brian Eno. Legendarily, she purchased the the album of 16th century harp music that ignited the "Ambient" touch-paper in the convalescing Eno's brain, but also appeared in his little-seen "
China, My China
" promo & bagged herself a titular name-check on "Back in Judy's Jungle".
The embryonic Snatch recorded a series of demos at Patti's Maida Vale flat in 1976, & eventually released a couple of them - "Stanley"/"I.R.T." - in early 1977 after striking a deal with the Bomp & Lightning labels. "
Worth gettin''
" according to Sniffin' Glue, & reputedly featuring Captain Sensible on guitar, their debut single made little commercial headway, though Eno was sufficiently captivated to suggest they contribute to
"R.A.F."
, a phenomenal one-off collusion that would appear on the b-side of his "King's Lead Hat" 45, & which prefigured the inventive production techniques he'd explore & refine during his imminent tenure with David Byrne & Talking Heads.
A second Snatch single, "All I Want"/"When I'm Bored", followed in 1978 (on Lightning again). Recorded with various members of The Heartbreakers & Roogaltor, this wildly infectious paradigm of punk-charged snot-rock actually made the lower end of charts in the U.K. (#54 specifically). Unfortunately, it's Cale-produced follow-up - the Shopping For Clothes e.p. on the
trés cool
Fetish label - took more than a year to emerge, by which time all commercial momentum had been lost. Some small consolation: it had the distinction of being included in Stephen Stapleton's mythic "N.W.W. list". Their working relationship having irredeemably stalled, Judy & Patti parted company at this point, though they'd both release fine records of their own in the years following the split - Patti forged partnerships with both Johnny Thunders & The Flying Lizards, while Judy made her career-best (so far)
Pal Judy
album with the On-U Sound crew in 1982 &, more recently, has worked extensively with Swiss art collective
Aether9
& French producers
Bo'Tox
. There's an excellent career-spanning interview with her
here
.
Released (briefly) in 1983, Pandemonium's Snatch compilation collates most of the singles alongside a handful of those germinal TEAC home demos. Ridiculously - considering how many people are gagging to hear it nowadays - it's been unavailable since the late '80s, which is when I would've first heard it, dubbed onto one side of a C90 that was passed onto me by a friend-of-a-friend. I have no idea what was on the other side of that tape but, significantly, I've
never
forgotten these Snatch songs...