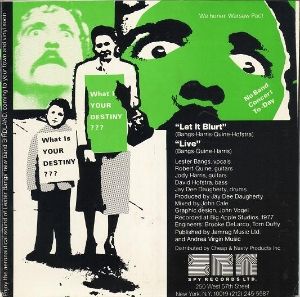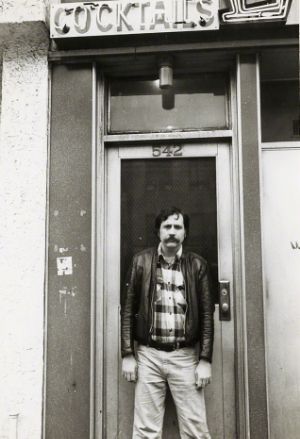 "
Lester Bangs is a drunken slob with the sensitivity of a rhino & the self-control of a 10-ton weight in free-fall, but he's also the possessor of more talent than he knows what to do with & in his way he's a seeker after truth. He loses his way a lot & falls on his ass in the mud a lot & crawls on his hands & knees a lot, & his record is ugly & courageous.

Star-spotters will note Voidoid Robert Quine on some of the guitars & Jay Dee Daugherty from the Patti Smith shower on drums & production (with a John Cale mix to boot, & you probably will), but that's just a footnote. As the band slithers & stumbles, Lester launches into a rant at a girl who got pregnant by him & had an abortion (Strictly imaginary, one hopes). As ugly & unheroic as it could possibly be, Lester's platter debunks hip misogyny by depicting it in the most unpleasant possible light.

Too many people will take it literally & too many people will say,"Lester's just an asshole" & too many people will just go "Huh?", but "Let It Blurt" is, despite it's faults, a serious attempt at getting to the roots of something."
- Charles Shaar Murray, New Musical Express, 2nd July 1979.
The infamous Mr. Bangs' debut 45 was recorded at New York's Big Apple Studios in 1977, 2 years prior to it's eventual release on John Cale's short-lived Spy label. His then-unnamed backing band included, alongside the already mentioned Quine (guitar) & Daugherty (drums), guitarist Jody Harris (The Contortions, Raybeats, Voidoids) & bassist David Hofstra (another ex-Contortion). Spy was founded by Cale & his then-partner Jane Friedman (concurrently Patti Smith's manager), with the intention of according him the opportunity to produce & release records by new wave acts he'd discovered during his New york sojourn. It's logo, designed by Michel Esteban, utilised Cale's own eye, & was snipped from the sleeve of his earlier Fear album. Esteban would subsequently found ZE Records with Michael Zilkha, for whom Cale would record several satisfying solo albums in the early '80s.
● Quaalude romance